A Second Bite at the Appraisal Apple; Credit Card Submissions Due Friday
Sometimes you just want a second opinion – like when you've received questionable investment advice from a relative or a medical diagnosis from the internet, or when a friend tells you it would be "weird" to write a crime novel about a credit union titled "Bylaw and Order."  Credit unions may want to seek a second opinion sometimes too – such as when they receive a deficient real estate appraisal.
For those who need a refresher, part 722 of the National Credit Union Administration (NCUA) regulations provides the rules applicable to real estate appraisals. Section 722.3(c) requires a formal appraisal by either a state-certified appraiser or a state-licensed appraiser for residential real estate transactions in which $400,000 or more of the transaction is not insured or guaranteed by a U.S. government agency or government-sponsored agency. State-certified appraisers are subject to more stringent requirements than their state-licensed counterparts. The regulation specifically requires a state-certified appraiser if the transaction is a complex residential real estate transaction or if the value of the transaction is $1 million or more (including non-residential real estate).
NCUA and other regulators issued this 2010 Interagency Appraisal and Evaluation Guidance, which notes that credit unions should review appraisals to ensure they comply with applicable regulations, appraisal standards, and the credit union's own policies. The guidance states the review should determine if the conclusions are appropriate and well-supported, and that credit unions may also use the review to evaluate the competency of the original appraiser.
The guidance notes that a credit union should not influence the outcome of an appraisal. Merely disagreeing with the value stated on an appraisal is not enough to warrant a second opinion. Instead, a second opinion may be justified where there are "significant deficiencies" in the original appraisal that need to be addressed. As for obtaining a second opinion, the guidance provides two possible methods. The guidance states credit unions should establish policies and procedures for addressing appraisal inaccuracies and weaknesses identified through the review. This may include:
"Addressing significant deficiencies in the appraisal that could not be resolved with the original appraiser by obtaining a second appraisal or relying on a review that complies with Standards Rule 3 of USPAP and is performed by an appropriately qualified and competent state certified or licensed appraiser prior to the final credit decision."
(emphasis added).
One option would be to obtain a second appraisal from a qualified and competent appraiser. Alternatively, the guidance provides that a credit union could obtain a review of the original appraisal by an "appropriately qualified and competent state certified or licensed appraiser" in accordance with the Uniform Standards of Professional Appraisals Practice (USPAP). The guidance states such a review "may result in a second opinion of market value" (emphasis added) and a credit union "may rely on the second opinion of market value obtained through an acceptable USPAP-compliant appraisal review to support its credit decision."
As for the original review to determine if a second opinion is needed, the guidance notes the review may be performed by credit union staff, and provides a description of reviewer qualifications, including that the reviewer be independent and have no direct interest (financial or otherwise) in the transaction. Alternatively, the guidance also discusses hiring third parties for appraisal review, including that credit unions should have internal controls and risk management systems for selecting third party vendors.
When it comes to hiring a new appraiser, the new appraiser will be subject to the same appraiser independence rules (such as those found in section 722.5 of the NCUA regulations and this interagency FAQ on appraiser independence) that applied to the original appraiser. This includes the rule that "loan product staff should not select appraisers" unless selecting from a revolving list of pre-approved appraisers that is not developed or maintained by the loan product staff. Appraisers must be either state-certified or state-licensed, but the interagency guidelines also note merely being certified or licensed does not necessarily mean an appraiser is competent to perform an appraisal for a particular property or geographic market – thus, the appraiser should also have knowledge of the market and type of property to be appraised.
Credit unions may want to review their policies and procedures regarding appraisal review to determine when a second appraisal or an appraisal review by a state-certified or licensed appraiser may be appropriate. A credit union may also want to address any investor requirements or fair lending implications in their appraisal policies and procedures. Additionally, the guidance notes credit unions should document their reviews of appraisals and should have policies addressing the level of documentation needed for the review, "given the type, risk, and complexity of the transaction." According to the interagency guidance, this documentation should "describe the resolution of any appraisal or evaluation deficiencies, including reasons for obtaining and relying on a second appraisal or evaluation" (emphasis added). Thus, regulators expect credit unions to have the proper policies, procedures, and documentation when seeking a second opinion.
2020, Q1 2021 Credit Card Submissions Due to CFPB by Friday. Quarterly credit card agreements are due to the CFPB by Friday, April 30, 2021 in accordance with the Truth in Lending Act (TILA). The rule applies unless the credit card agreement previously submitted continues to be offered and has not been amended. In addition, the rule has exceptions for certain private label cards and for credit unions with fewer than 10,000 open credit card accounts.
Last year, the CFPB suspended this requirement as part of its pandemic-related relief but rescinded this suspension effective April 1, 2021. In the bulletin rescinding this regulatory flexibility, the Bureau indicated that credit unions subject to the rule will be required to submit credit card agreements for both the first quarter of 2021, and all four quarters of 2020. More information on this rule can be found in this past NAFCU Compliance Blog post.
About the Author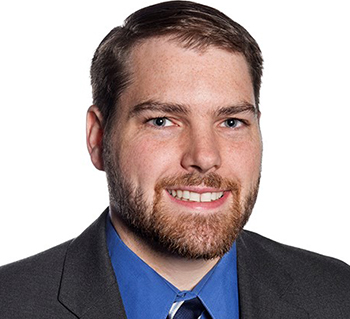 Nick St. John, was named regulatory compliance counsel in March 2020. In this role, Nick helps credit unions with a variety of compliance issues.
Read full bio