Sound Practices for Effective HMDA Compliance
Last week, the Federal Reserve System published the latest edition of the Consumer Compliance Outlook. This issue includes an article entitled HMDA Data Collection and Reporting: Keys to an Effective Program, which outlines, among other things, a few best practices for creating and maintaining an effective HMDA compliance program. The NAFCU compliance team has published plenty of blog posts about HMDA explaining threshold updates and data collection requirements, but today's blog will focus on some of the suggested practices that may strengthen a credit union's HMDA compliance program. These have been identified in the article as "sound practices" and include ensuring accurate data collection, tools, training, data verification, and data reporting.
Ensuring Accurate Data Collection. Credit unions are encouraged to make proactive decisions about how data will be collected and to use written procedures to communicate these decisions to staff. In certain situations, HMDA and Reg C allow a credit union to choose how some reportable information is collected. For example, section 1003.4 allows the credit union to report the "application date" using either the date the application was received by the credit union or the date on the application. In these types of scenarios, a credit union is expected to have a procedure of using one method consistently. Other situations a credit union should consider include using the date on an adverse action notice as opposed to the date a credit decision is made, and determining which credit bureau score to report if more than one was used in making a credit decision.
Credit unions may also consider centralizing HMDA collection activities, so that employees know where to take applicable data and related questions as they arise. A HMDA expert on staff may be able to assist other individuals and ensure all data is collected consistently and accurately.
Tools. Credit unions are encouraged to provide staff with applicable resources, such as flow charts, worksheets, cheat sheets and other guides. These tools would serve as handy and straightforward references for credit union staff handling HMDA data. Tools could include information about how to identify a reportable transaction, and where to find certain information within loan files. Cheat sheets could be provided to remind staff of how to complete tasks throughout the collection process. It may also be helpful to provide copies or portions of agency guides, such as the HMDA Getting it Right! Booklet, the HMDA Small Entity Compliance Guide, or the HMDA reportable data reference chart.
Training. Training is an important step in ensuring staff understand the requirements of HMDA and Reg C. Training all staff involved in HMDA data collection and reporting is critical for consistency across teams and accuracy in data. Credit unions are encouraged to ensure staff remain up to date on HMDA requirements and familiar with the credit union's own procedures to limit the risk of errors and violations. A credit union might consider focusing training on the collection of more complicated data points (such as ones that require calculations) and areas in which the credit union has had errors in reporting.
Data Verification. Creating a process for data verification and review can help a credit union to identify common errors and deficiencies in its data collection program. Data verification may include reviewing a sample of data to determine whether it accurately reflects the information in loan files. Credit unions are encouraged to evaluate whether an internal team or third party should conduct these reviews, and the appropriate frequency of review based on the credit union's risk of violation. Credit unions are also encouraged to correct any errors shown in its own data and address any processes that may lead to errors or violations.
Data Reporting. Just as it is important to have written procedures and trainings for staff involved with data collection, it can be just as important to ensure staff are properly informed on how to submit the data. A credit union may be required to report data annually, quarterly, or may be voluntarily reporting data. No matter the case, a credit union may want to ensure processes are in place for reporting data on time and correctly through the electronic filing platform. Information about the HDMA filing process can be found at the FFIEC's website.
The article includes the following table with a short summary of the concepts discussed above.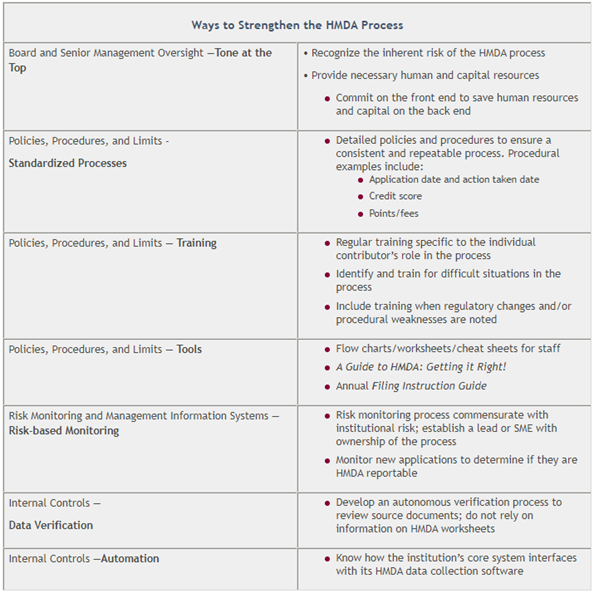 The article also discusses HMDA reporting thresholds, how to identify reportable transactions, and the differences between reportable consumer and business transactions. For more information on those items, check out the full article.
About the Author