Recent Activity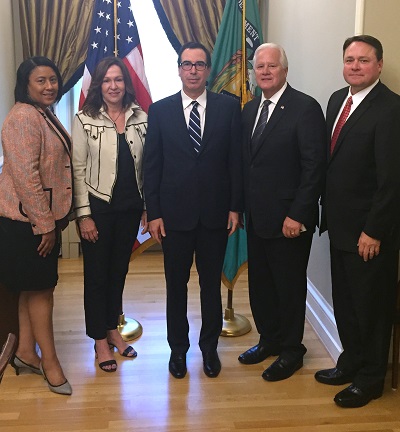 Congress passed the "Tax Cuts and Jobs Act" (the Act) on December 20, 2017 and President Trump officially signed it into law on December 22. Thanks to NAFCU's persistent advocacy, this monumental piece of legislation keeps the credit union tax exemption fully intact. This is a testament to the value and strength of credit unions. You can download NAFCU's full analysis of the Tax Cuts and Jobs Act to learn more about how this legislation affects credit unions (updated 12/27/17).
On November 13, 2017, NAFCU sent a letter to Senator Orrin Hatch to thank him for his leadership of the Senate Committee on Finance and to urge him oppose efforts to amend the Tax Cuts and Jobs Act legislation that would change the tax status of credit unions. The proposed amendments would have a detrimental impact on the ability of credit unions to serve their more than 110 million members.
On August 22, 2017, NAFCU met with Treasury Department Secretary Steven Mnuchin to discuss a range of issues, including credit union tax exemption. Leaders from several NAFCU-member credit unions, with the association's Dan Berger and Carrie Hunt, discussed the association's ongoing priorities and concerns by highlighting the tax study NAFCU released earlier this year detailing the value credit unions' tax exemption provides to the industry and the overall economy.