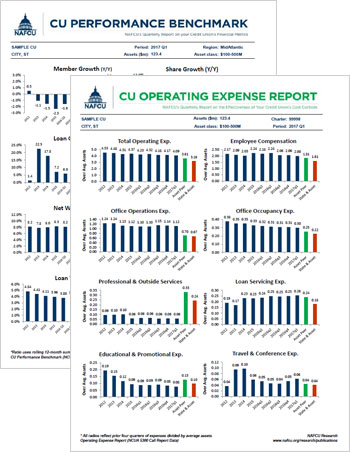 Measure your credit union financial performance and see how you measure up
Ensure that your credit union remains competitive. NAFCU offers you two quarterly member-only reports to measure your credit union's performance against your peers. The CU Performance Benchmark report provides broad measures of your credit union's financial performance and compares them against your regional and asset class peers.
The Operating Expense report drills down into your credit union's non-interest expenses, comparing them with asset class averages and showing you where you rank amongst your peers. These reports give you a customized financial performance analysis of your credit union based on member growth, earnings, asset quality, capital adequacy, employee compensation and much more.
Download your quarterly custom report! NAFCU member credit union staff and volunteers can download their CU Performance Benchmark report through their NAFCU website account.
Download a sample CU Performance Benchmark report
Download a sample Operating Expense report
Check out a sample of the convenient slides format
Data to Help You Make Sound Strategic Decisions
Get individualized charts and tables unique to your credit union in three convenient formats – PDF report, PPT slides, and Excel spreadsheet
Compare your credit union performance to regional and asset class peer averages
Benchmark and identify areas for improvement at your credit union
Determine annual and quarterly growth trends
Find out whether management initiatives to reduce costs and improve financial performance are paying off
Quickly educate your board and staff about your credit union's quarterly performance
Get definitions and call report account code formulas for key financial ratios
If you would like to receive reports for previous quarters, please contact research@nafcu.org to request it.
Questions?
Check out our Frequently Asked Questions (FAQs) for additional information about this report.