DefenseStorm understands each community-focused bank and credit union is a unique, high-value target averaging 20 million potential cyber events, every day.
Unique threat data, regulatory pressures, staffing needs and budget realities make staying safe and compliant particularly challenging.
That's why we've created a uniquely specialized cybersecurity and cybercompliance company – expressly built for credit unions and banks.
We provide the only co-managed, cloud-based and compliance-automated solution of its kind, as a service and a system. It gives financial institutions a way to be threat-ready, team-smart and board-accountable in a matter of weeks.
Together, we'll help you control the storm of cyber threats while delivering and demonstrating real-time cyber safety and soundness for your examiners, investors, customers and community.
DefenseStorm's banking-focused advantage for credit unions outmatches common generic solutions.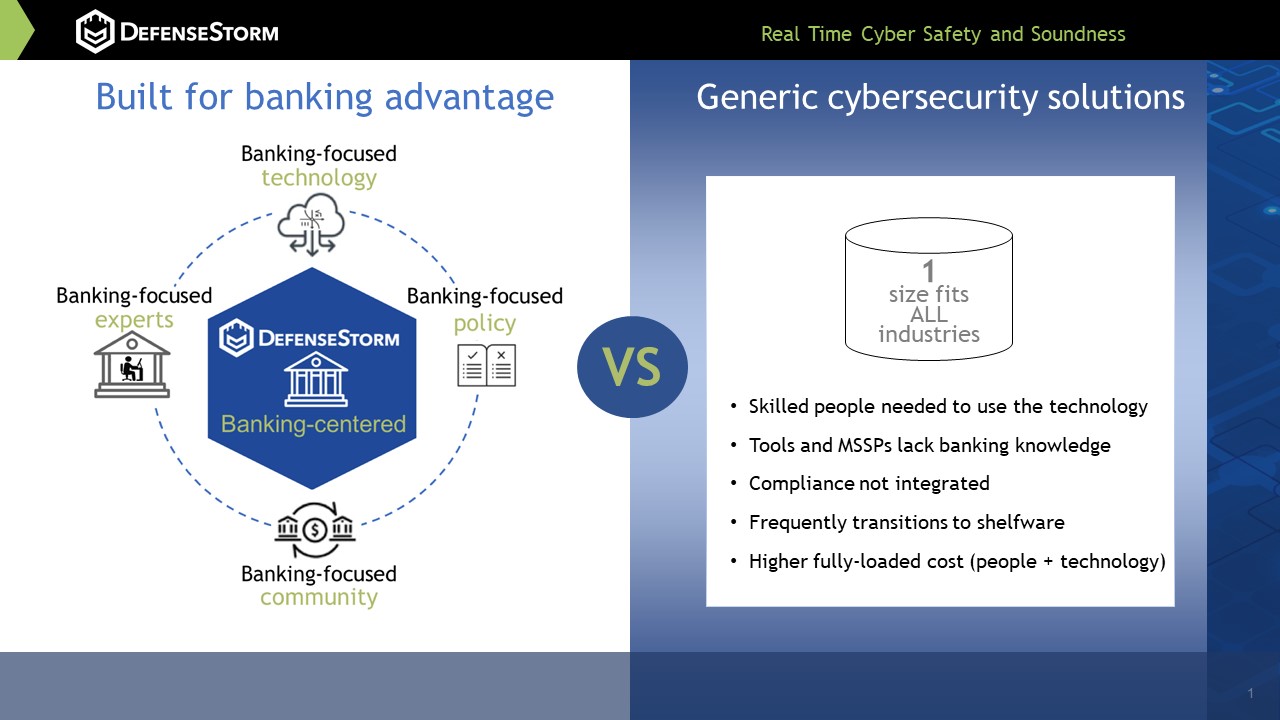 Read about How to Remain Secure in the Cloud and Adhere to the New FFIEC Guidance now.
Products and Services
Provides cybersecurity and cybercompliance solutions specifically built for banking to achieve and maintain Cyber Safety & Soundness. DefenseStorm's Active Compliance 2.0 solution is an innovative, updated version of the company's current compliance solution.

The state-of-the-art DefenseStorm GRID™ powers the only purpose-built for banking system that integrates essential threat detection and compliance processes to deliver automatic regulatory adherence, machine learning assisted intelligence and real time 360º threat visibility and prioritization with speed, accuracy and reporting at a click.

The DefenseStorm GRID™ is the only system with the FFIEC-CAT and ACET built in, and links policies to real time alerts so credit unions can prove to regulators they are secure and compliant with federal and industry cybersecurity requirements, as well as with other regulations and their own policies.

Included with the DefenseStorm GRID is co-managed operation. Customers gain the continual support and cyber expertise of our TRAC (Threat Ready Active Compliance) Team without losing visibility or control (as often happens when outsourcing to a pure Managed Security Service Provider (MSSP). Our TRAC Team serves as a "force multiplier" for in-house cyber teams while also protecting business continuity for institutions facing tight resources.

Credit unions can customize and extend their use of the DefenseStorm GRID through a variety of onTRAC Add-On Subscriptions, which range from strategic to tactical assistance, and from full management support to situational expertise delivery.

onTRAC Advisory & Consulting Subscriptions: Credit unions without a Chief Information Security Officer in-house, or who want to supplement their in-house expertise with external checks and advice, leverage DefenseStorm's Advisory and Consulting Subscriptions.

onTRAC vCISO Subscription: Gain the guidance of an experienced banking cybersecurity and cybercompliance leader without having to hire one full-time. Deliverables include:

Cybersecurity & Cybercompliance Baseline Risk Assessment
Cybersecurity and Cybercompliance Maturity Optimization
Board of Directors & IT Oversight Committee Reporting
Cybersecurity and Cybercompliance Progress Assessment & Reporting

onTRAC Vulnerability Management Subscription: Enables credit unions to develop, operate, and continuously test and modify your InfoSec program and policies.

Security Architecture Review and Recommendations
InfoSec Program Development
Penetration Testing
Security Awareness Training

onTRAC Functional Support Subscriptions: Extend and augment your hands-on cybersecurity and cybercompliance resources with DefenseStorm team members.

onTRAC Active Compliance™ System Prep
onTRAC Active Compliance Monitoring and Reporting
onTRAC Incident Response Planning and Participation
onTRAC Reporting Design and Development
onTRAC Audit Prep

"We couldn't do in days what DefenseStorm does for us in minutes. The benefits of being able to satisfy our examiners & auditors when they ask us questions, and being able to feed that back to the board, that's the ROI."

-Carlos Vasquez VP of Information Technology, Public Service Credit Union