2021 NAFCU Services Innovation Award Winner
Real-Time Cyber Safety and Soundness
Financial institutions are subjected to more than 20 million cyber events every day. To mitigate risk, DefenseStorm works as your partner in addressing the unique cyber threats and compliance demands facing credit unions in today's complex financial services landscape. DefenseStorm provides CyberSecurity, CyberCompliance and CyberFraud solutions specifically built for banking to achieve and maintain Cyber Safety and Soundness.
CyberSecurity
Make better, faster, more informed decisions regarding cyber threats with real-time visibility into your entire security operation.
CyberCompliance
Seamlessly document compliance and governance activities while simplifying the self-assessment process.
CyberFraud
Integrate Information Security and BSA/AML Fraud departments in a single platform to prevent losses and protect your account holders.
The DefenseStorm GRID is the only co-managed, cloud-based and compliance-automated solution of its kind, operating as both a technology system and a service. It watches everything on a financial institution's network to provide real-time cyber exposure readiness while a Threat Ready Active Compliance (TRAC) Team ensures cost-effective coverage.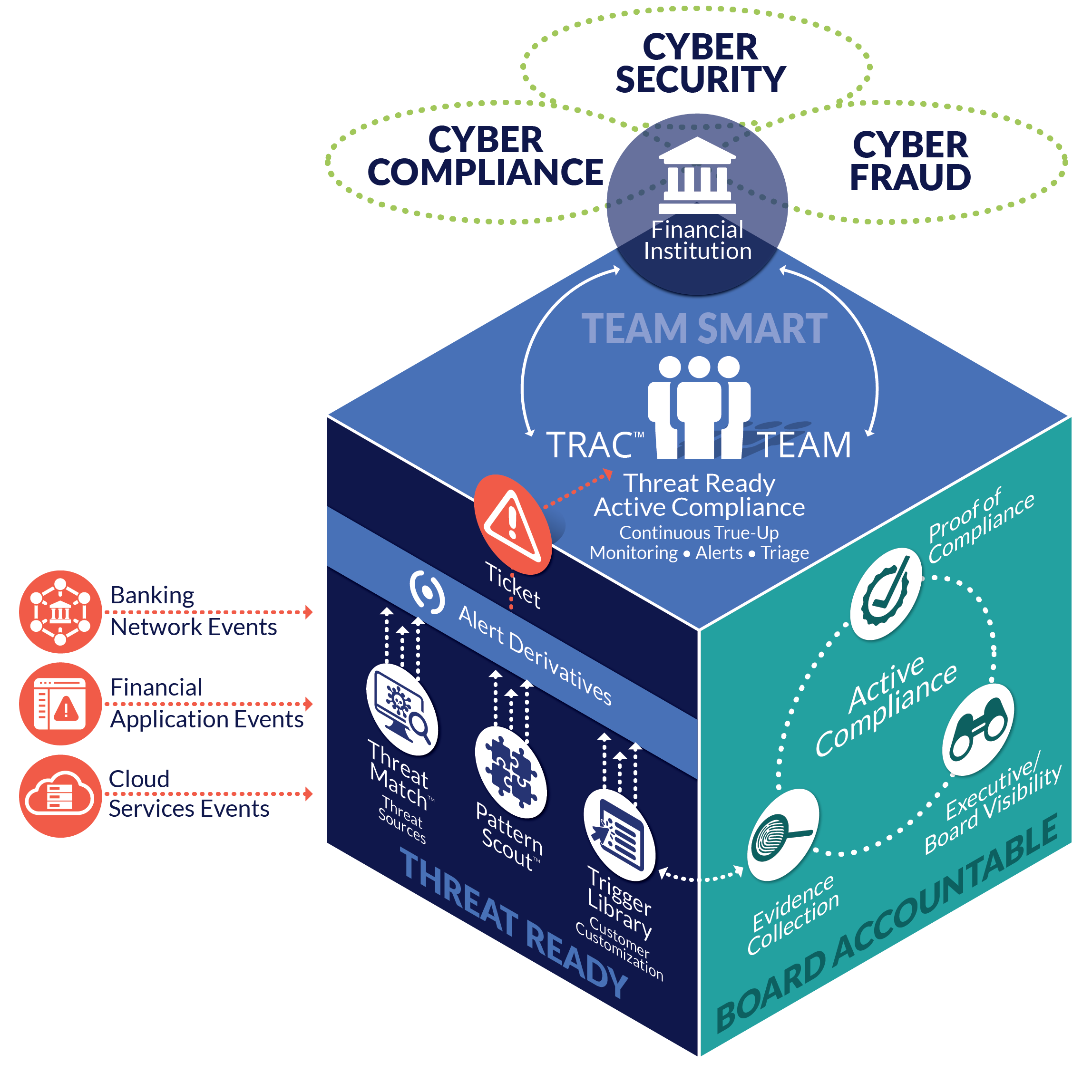 Products and Services
Provides cybersecurity and cybercompliance solutions specifically built for banking to achieve and maintain Cyber Safety & Soundness. DefenseStorm's Active Compliance 2.0 solution is an innovative, updated version of the company's current compliance solution.

The DefenseStorm GRID powers the only purpose-built for banking system that integrates essential threat detection and compliance processes to deliver automatic regulatory adherence, machine learning assisted intelligence and real time 360º threat visibility and prioritization with speed, accuracy and reporting at a click.

 

Prior to partnering with DefenseStorm we followed a time-consuming process of scavenging through numerous systems to gather the evidence needed to satisfy examiners.  Since leveraging the compliance capabilities of the GRID we have been able to easily gather everything we need from a single system; saving us approximately a month of work in advance of an examination. Simply put, it does the stuff!

-Heather Davis, Information Security Officer, Listerhill Credit Union

 

We couldn't do in days what DefenseStorm does for us in minutes.  The benefits of being able to satisfy our examiners and auditors when they ask us questions, and being able to feed that back to the Board, that's the ROI.

-Carlos Vasquez, Vice President of Information Technology, Canvas Credit Union

 

DefenseStorm works well for us because they understand our industry, the flow of data through multiple providers, and our compliance needs. Plus, DefenseStorm is award-winning and affordable.

-Jerry King, President, DEXSTA Federal Credit Union

 

We wanted more than a vendor.  We were looking for a trusted partner who was passionate about taking care of the needs of our organization, and DefenseStorm was the only prospect to demonstrate that level of care.

-Matthew Clements, Vice President of Technology & Analytics, Red Rocks Federal Credit Union