Unique opportunities to make valuable peer connections
If there's a region in the U.S. known for its wine, it's Napa. And we've built a series of unique daily networking events designed to help foster idea exchange with your fellow credit union executives while you take advantage of America's premier wine region. All included in your conference registration: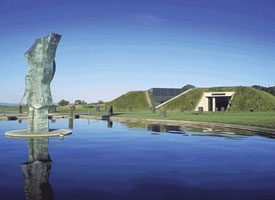 Afternoon Vineyard Tour
On Wednesday, April 18, mix and mingle with fellow CEOs and senior executives while visiting two of Napa's top 10 wineries!
You'll start at Artesa Winery, owned by a family whose winemaking history dates to the mid-sixteenth century. Set high along a hilltop with panoramic views of Napa Valley and San Francisco Bay, Artesa focuses on producing the small, ultrapremium varietals Napa is best known for: Chardonnay, Pinot Noir, Merlot and Cabernet Sauvignon.
Your tour continues to Stag's Leap Wine Cellars, where you'll be personally welcomed to the Estate in the Vineyards by their winemaker. You'll learn why Stag's Leap wines have become some of the most highly regarded and collected wines worldwide. You'll also explore how the Paris Tasting of 1976 changed the world of wine, putting both Napa Valley and Stag's Leap on the map. Space on the tour is limited – sign up today!
NOTE: Half of the tour group will visit Artesa Winery first, and half will visit Stag's Leap first. Then the groups will rotate so everyone will visit both vineyards. Afternoon Vineyard Tour buses will go directly from the wineries to the reception at CIA at Copia. For those not attending the afternoon tour, transportation will be provided to the reception from the hotel. Those on the afternoon tour who will not be attending the evening reception may catch a bus back to the Meritage Resort and Spa from CIA at Copia. Tour attendees must be age 21 or older.  Tours depart from the hotel promptly at 1:15pm.
Networking Reception at Culinary Institute of America
After Wednesday's vineyard tours, join us for an early evening reception with your peers at the Culinary Institute of America at COPIA in downtown Napa. At the spectacular Jackson Family Wines Amphitheater and Patio overlooking the Napa River, you'll experience chef cooking demos, sample local cuisine, and enjoy Napa wine in a beautiful setting. For those not attending the afternoon wine tours there will be transportation from the Meritage Resort & Spa.
Local Entrepreneur Presentation
On Thursday, meet fellow executives at a special event. You'll delight in a presentation by a local winery, chef, or other Napa entrepreneur who will discuss their craft while discussing the unique needs of small businesses in relation to financial institutions.
Spouse/Guest registration for the tours is available for $225 per person.
Note: Events subject to change.