San Antonio, Texas
NAFCU's Strategic Growth Conference is built to help you thrive…and so is the conference location! San Antonio, Texas may be known as "The Alamo City," but it has so much more to offer. This timeless city on the river offers spectacular dining and nightlife, plus art museums, historical missions, and amusement parks. Downtown San Antonio is even considered to be among the nation's most vibrant cities—no wonder it's ranked a "Best Place to Travel" by Travel + Leisure magazine!

Jump to: Where to Stay | Getting to the Area | San Antonio Attractions
Where to Stay in San Antonio, TX
Conference Hotel: 
The Westin Riverwalk San Antonio
420 W. Market St, San Antonio, TX 78205  |  210.224.6500
The Westin Riverwalk San Antonio is located in the heart of the city, right along the popular Riverwalk. You'll be steps away from delicious restaurants, quaint boat rides, and vibrant shops. Even if you decide to stay indoors, rooms overlooking the water or the city make for great memories.
RESERVATIONS: Rooms are only $249 plus 16.75% tax and 1.25% state cost recovery fee at the discounted NAFCU rate, expiring February 14, 2020. Reserve your room now online or by calling The Westin Riverwalk Downtown at 210.224.6500 using the code "NAFCU2020."
NOTE: Room reservations and fees are the responsibility of the registered attendee. Room rates and availability are not guaranteed. Rooms may be sold out prior to the reservation deadline, so please make your reservations early.
Tax Exemption
Your credit union may be eligible for a tax exemption at this hotel.
Download the NCUA tax exemption form.
Getting to San Antonio, TX
San Antonio International Airport is 15 minutes from the The Westin Riverwalk San Antonio. The hotel provides ground transportation information.
Airfare and Car Rental Discounts
Special NAFCU-discounted travel rates are available.
Top San Antonio Attractions
With a rich colonial heritage, lush culture, and distinctive attractions, it's no wonder San Antonio was ranked a "Best Place to Travel" by Travel + Leisure magazine.
Here are some of San Antonio's most popular attractions:
Mission San Jose: Founded in 1797, this mission-turned-museum's 8 rooms featuring everything from Native American culture, the Spanish Era, the 1985 reconstruction of the Mission Church, and more.
The Alamo: Experience the mission, the battle, and the legend of The Alamo – Texas' most visited historic landmark is the heart of San Antonio. Relive the famous 1836 battle through stunning demonstrations, and explore the 300-year-old fortress and its impressive artifacts.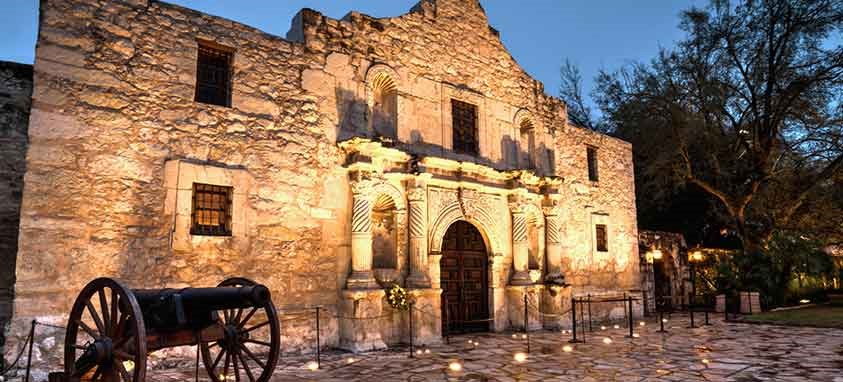 Botanical Garden: This 33-acre super garden is San Antonio's premiere plant experience. If you're looking for a relaxing stroll through a beautiful array of flora, this is the spot! The attraction consists of the Lucile Halsell Conservatory, formal and display gardens, native gardens, an overlook tower and the Sullivan Carriage House.
Japanese Tea Gardens: One of most beloved cultural spots in San Antonio is the Japanese Tea Garden. With over 90 years of history, the garden has transformed from a simple rock quarry to an intricate structure including walkways, stone arch bridges, a lily pond and more.
Mission Concepcion: Over two centuries old, this stunning stone church is the oldest unrestored church in America. Its Spanish Colonial architecture style is authentic and a must-see if you appreciate history and architecture.  
Briscoe Western Art Museum: This modern museum is home to art and artifacts reflecting the history and culture of the American West. Explore engaging exhibitions, educational programs, and more at this popular San Antonio attraction.