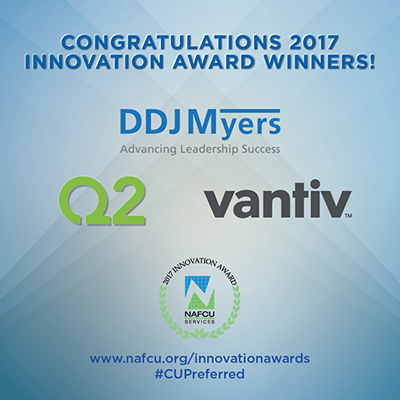 The annual Innovation Awards competition features outstanding innovations that help credit unions grow and prosper. An Innovation Award is the highest distinction offered to a NAFCU Services Preferred Partner.
Since their inception, the Innovation Awards have honored partners that consistently demonstrate their commitment to bringing new, unique, and valued products to the credit union market. An Innovation Award is the highest distinction offered to a NAFCU Services Preferred Partner.
The 2017 award-winning solutions are:
DDJ Myers for the Transformative Change Model (TCM)
DDJ Myers developed TCM to facilitate change with board members to strategically add the value required for a high-performing board. The changing board phenomena necessitated a new mindset that modeled the change credit union boards wanted.
Q2 for Q2 SMART
Q2 SMART is a behavior-driven recommendation engine. Real growth in an age of digital growth means better understanding and engagement with members to deliver the right products at the right time. Q2 SMART helps FI marketers target banner ads based on user behavior, and easily manage multiple customized promotional campaigns in online banking.
Vantiv for OmniShield
Card fraud in the U.S. is a $7.5 billion a year problem and is forecasted to reach $9 billion by 2020. Vantiv's OmniShield solution manages and mitigates card fraud. While the average U.S. debit card portfolio averages 12.53 basis points in gross fraud losses, credit unions protected by OmniShield average 7.34 basis points, a 41% reduction.
"Each year our partners exhibit extraordinary creativity and commitment to solve challenges specific to credit unions," said NAFCU Services President, Randy Salser. "These innovative solutions provide credit unions with tools to better serve their members, which in turn elevates our industry. We are very grateful to all of the 13 finalists, and congratulate these three winners for their service to credit unions."
The winners were chosen by a committee of judges who evaluated the solutions based on the degree of innovation and the impact on credit union success.
Past winners