The Institute Experience
A unique education experience with a lasting impact.
NAFCU's Management and Leadership Institute is much more than five days of credit union leadership education. It's a one-of-a-kind learning experience – where participants become well acquainted with their peers and faculty, and build lifelong connections. Students are given the unique opportunity to get advice on their career and aspirations, and become mentored and coached by credit union experts.
Upon graduation, we'll send your NAFCU Management and Leadership certificate directly to your credit union's CEO, ensuring they're aware of your enhanced leadership skills and 360-degree knowledge of credit union management.
Pre-Institute Preparation
To get the most out of your institute experience, students should come prepared with an overall understanding of your credit union's financial position and bring:
Call report
Financial performance report
Financial summary
Financial ratios
If needed, talk to each division at your credit union and come armed with the major issues they face. Through the week's instruction and assignments, you will use the tactics learned to make recommendations, learn strategies for dealing with executive-level concerns and walk away with answers specific to your credit union's challenges.
Day-to-Day Schedule
The first four days of classroom-style instruction will be facilitated by widely-acclaimed credit union industry experts. Students will hone their skills for daily decision making and strategic planning and will learn the essential elements of outstanding credit union management.
Group Project Case Studies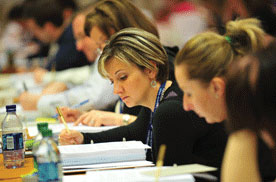 During the first full day of the institute, participants will be divided into small groups of varying credit union roles and asset size. These partners will work together on an assigned credit union case study, and will meet at the conclusion of each day's educational instruction. Throughout the week, faculty will evaluate the lessons taught, and will devise questions, scenarios and comments that will need to be applied during each group project meeting.
Groups will be given approximately two hours to work through the material learned each day, and tasked with making recommendations for their fictional credit union's future and relate the information they learn to specific real-world situations.
End of Day Networking Opportunities
The program will conclude each day at approximately 6:30 p.m. Students are encouraged to meet with their classmates to network and reflect on the lessons of the day. The conference location offers a wide variety of dining options easily accessible from the institute hotel.
Group Project Presentations
Group meetings will conclude at the end of the fourth day, and presentations will begin the morning of the final day. Groups will present their case studies they've worked on throughout the week in front of their peers. Institute faculty will evaluate their success, offer recommendations, and challenge the groups with questions, and what-if scenarios. There are no classes held on Friday, only presentations.
NAFCU Management and Leadership Certificate
NAFCU's Management and Leadership certificate distinguishes you as one of the credit union industry's best prepared and most knowledgeable leaders. Upon your graduation, we'll send your certificate directly to your credit union's CEO, ensuring they're aware of your enhanced leadership skills and 360-degree knowledge of credit union management.
Staying Connected Post-Institute
After an intensive and rewarding learning experience, students walk away with lifelong connections and helpful advisors. We encourage alumni to stay connected as they bring important lessons back to their credit unions. Please opt to share your contact information while registering if you'd like for other institute classmates to be able to contact you, and join the NAFCU Management and Leadership Institute Alumni LinkedIn group.
Additional Resources
NAFCU's Management and Leadership Institute provides students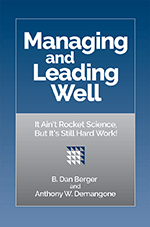 with an excellent foundation for becoming leaders now and in the future. The act of continued learning will build upon your new skills and experiences even more. That's why every student will receive free signed copies of both a top John Spence leadership book, and the "Managing and Leading Well" book by NAFCU leaders B. Dan Berger and Anthony Demangone.
"NAFCU's Management and Leadership Institute was an excellent opportunity for me to hone in on my managerial and leadership skills. I garnered beneficial insight from both the speakers and my fellow classmates. The group exercises proved worthwhile, and the connections that I made were invaluable."
—Anna May Nauss, SVP, AmeriChoice Federal Credit Union