Boxes and Cracks
Written by Anthony Demangone, Powered by NAFCU
This past weekend, I was trying to explain to Kate and Briggs the importance of trying new things. And then I recalled a podcast I listened to in February. (It was a good podcast that discussed Crocker's Rules, which I wrote about earlier.)
In the podcast, Tobi Lutke, CEO of Shopify, talked about boxes. And the need to move into bigger boxes in order to grow. Here's a snippet of the full transcript:
At some point, I decided I want to analyze why some kids are cool and why I'm not. And what I came back with was the cool kids all had Air Jordans. So I wanted them, too. And, of course, at some point, I got them, and it totally didn't make a difference. But the reason why this is valuable is that high school is a universe. It's kind of a box. And it's hard to get in it because it feels very uncomfortable. You don't understand it. You don't understand the social network or inferences. And then you're trying to make sense of it in your own way, and it actually becomes reasonably comfortable after you sort of explain it to yourself.

Now, it's a small box, narrow. And probably your understanding of it is wrong. Clearly, mine was about how I could join the cool kids. At some point, hopefully, what happens is you find a crack somewhere in the narrow box you're in, and you go into the outer box where this box you just came from is like a tiny parcel in the corner. It's a much bigger place. It may be college or work life. But, again, it feels super uncomfortable. You arrive in that new box not understanding physics, not understanding the situation, what's expected of you. It's all ambiguous. You have to reinvent – even the things you figured out before are no longer true. And you notice this at sort of an internal level. And the trick is to, at some point, figure it all out. And then comes the dangerous part because it's now comfortable again.

And so what you have to do is you have to go and find the crack and go into the next box around this where, suddenly, all of your college life and all of these kinds of things just are a small box in the corner somewhere. And, suddenly, your world is much bigger, and you need to learn more and understand more and so on. I find I've met, luckily, at various times in my life, these people who clearly occupy the much larger box. And they just sort of bend down to me to talk to me because they could just somehow – like you said this one thing, and what they said back to you was so clearly right, but you could never have understood yourself based on this vantage point you had. And they were usually the way that you entered into a larger box and so on.
I don't want to opine too much on this, because I think Tobi eloquently covered it already. But perhaps I'll end with this simple challenge.
May all of us...
Push ourselves into larger boxes; and
Look for those peaking out of the smaller boxes and extend a hand and show them around our box. 
All right, I think that's enough for today. As always, thanks for what you do, and holler if NAFCU can ever help.
- Anthony
About the Author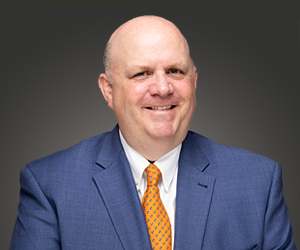 Anthony Demangone, NCCO is Executive Vice President and Chief Operating Officer at NAFCU, where he oversees day-to-day operations and manages the association's education, marketing, membership, human resources, building facilities, finance and information technology functions. He also authors NAFCU's executive blog, Musings from the CU Suite and co-authored "Managing and Leading Well," a book for credit union leaders, with NAFCU President and CEO Dan Berger.
Read full bio