2 Life Insurance Myths Are Putting Your Members at Risk
Life Insurance Awareness Month is a great time to debunk them
By Chris Copeland, SVP of Product Solutions, CUNA Mutual Group
In recent years, an annual life insurance study has shown a sobering percentage of U.S. adults don't have life insurance. According to the 2020 Insurance Barometer Study conducted by LIMRA in January 2020, that figure was 46%.1
This stat might come as a bit of a surprise—after all, few families can afford to lose their primary income. So why do so many opt not to buy life insurance?
Two persistent life insurance myths:
Findings from the Insurance Barometer indicate many consumers are unaware of the following:
1.   How affordable life insurance is. Over half of respondents estimated life insurance cost three times more than it actually does and younger consumers overestimated by a factor of five. Half of surveyed Millennials estimated annual policy cost (for $250,000 level-term for a healthy 30-year-old) at $1,000; the actual cost was closer to $160. Even more concerning, cost was a top reason two-thirds of respondents didn't own life insurance.2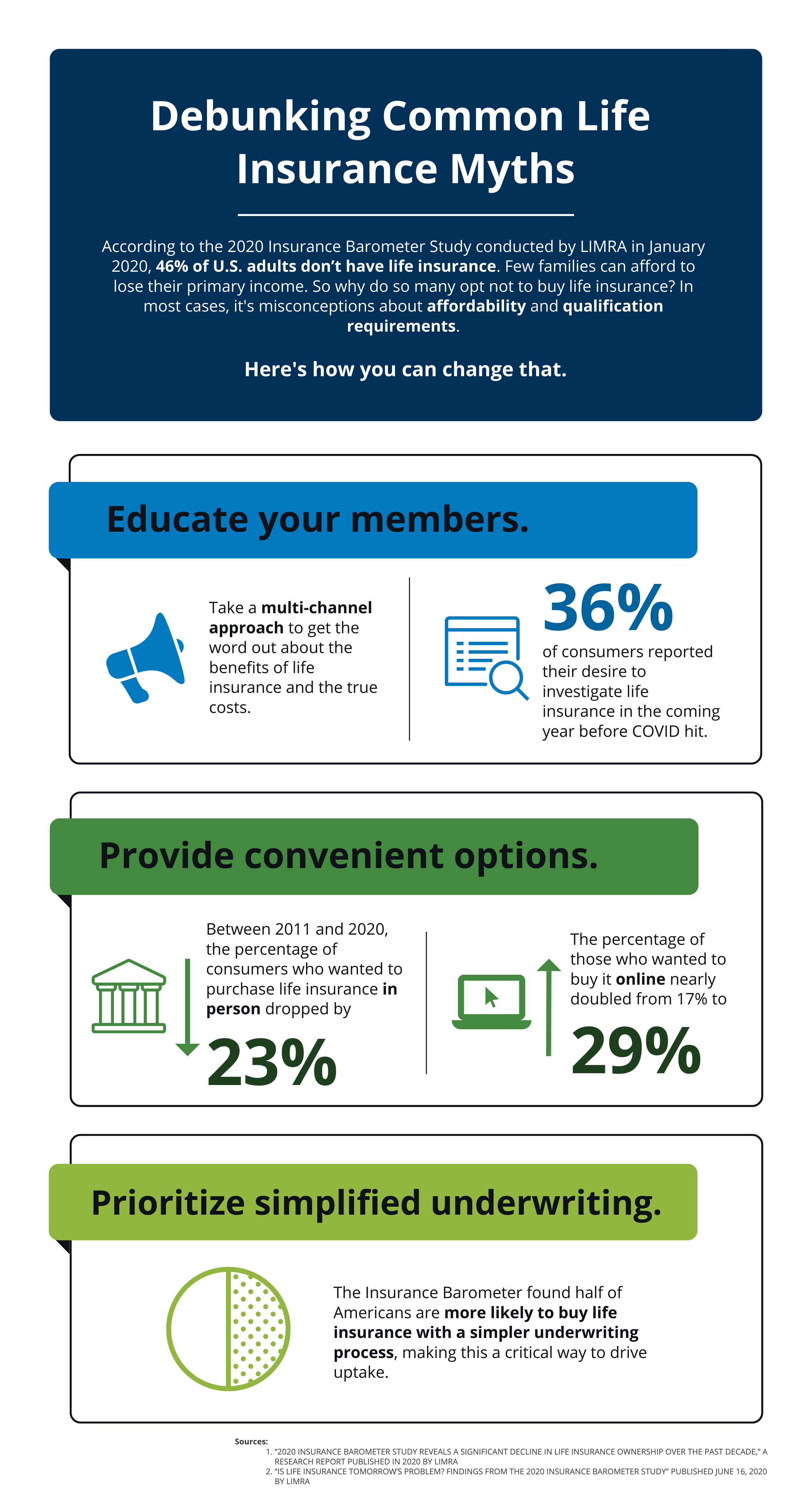 2.  How easy life insurance is to understand and qualify for. LIMRA's Insurance Barometer study found more than half (52%) of respondents didn't own life insurance because they didn't know how much or what kind to buy. Plus, the typical range of application requirements—blood work, doctor visits and more—can feel onerous and time-consuming, and the entire process seems biased and ambiguous to many.
These all-too-common misconceptions mean too many families opt out of a product that could offer critical protection for their loved ones.
Three ways to debunk these myths:
1.  Educate your members. Take a multi-channel approach to get the word out about the benefits of life insurance and the true costs. Given how many consumers reported their desire to investigate life insurance in the coming year—a robust 36% before COVID hit—it seems likely additional knowledge will help drive life insurance uptake.3
2.  Provide convenient, easy-to-use life insurance options. Look for providers that make it simple for members to investigate, purchase, and receive support throughout their life insurance journey. Seek out providers with strong digital tools and online applications and servicing. Between 2011 and 2020, the percentage of consumers who wanted to purchase life insurance in person dropped by 23% and the percentage of those who wanted to buy it online nearly doubled (from 17% to 29%).3
3.  Prioritize simplified underwriting. Members are often overwhelmed and intimidated by having multiple hoops to jump through—such as testing, doctor's visits, and bloodwork. They fear being turned down and want the approval process to be transparent and objective. The Insurance Barometer found half of Americans are more likely to buy life insurance with a simpler underwriting process, making this a critical way to drive uptake.4
COVID brings new urgency to the importance of Life Insurance Awareness Month. Use it to remind your members:
Life insurance could help bring peace of mind to them.
Life insurance probably costs less than they think.
It's easier to learn about, apply, and qualify for life insurance than they might realize.
Click here to learn more about protection for your members that's designed to be affordable with simplified underwriting, comprehensive online support, and fast approvals and payouts. 
4"2020 Insurance Barometer Study Reveals a Significant Decline in Life Insurance Ownership Over the Past Decade," a research report published in 2020 by LIMRA
---
TruStage® Insurance products and programs are made available through TruStage Insurance Agency, LLC. Life insurance and AD&D insurance are issued by CMFG Life Insurance Company. Auto and Home Insurance Program are made available through TruStage Insurance Agency, LLC and issued by leading insurance companies. The insurance offered is not a deposit, and is not federally insured, sold or guaranteed by your credit union. The TruStage® Health Insurance Program is made available through TruStage Insurance Agency, LLC and GoHealth LLC. GoHealth LLC is licensed to sell nationwide and operates in all states with the exception of Massachusetts, Vermont. Note: CUNA Mutual Group is the marketing name for CUNA Mutual Holding Company, Further Reproduction, Adaptation or Distribution Prohibited. ICC16-A10a-039, A10a-039-2016, ICC17-SIT-2, 2017-SIT-2.
About the Author