3 Steps for CU Members' Financial Success
Now is the perfect time to evaluate how your credit union can help your members focus on their financial success and how you can help them accomplish their financial goals. Whether your members have plans to buy a home, pay off debt or build their savings for long-term stability, a little planning can go a long way in ensuring your members are successful.
Here are the top three steps your credit union can coach your members to follow in order to get their finances ready for success.
Coaching Your Members for Financial Success
Step 1: Recommend members check their credit 
Members can go to annualcreditreport.com to download their credit report from each credit bureau for free once per year. If they haven't checked their credit in the past twelve months, they should use this opportunity to review the reports. This will help your members understand where their credit is and if they have any negative items, such as missed payments, that could be decreasing their score.
Reviewing their credit will help members plan ahead for the year, particularly if they plan on applying for a new loan or credit card. This is also an opportunity for your credit union to help members take steps to improve their score based on the information in these reports.
Step 2: Recommend members review their debts
Members should be proactive and check the current balance and APR of their debts. If your members have credit card debt totaling more than $5,000, recommend that they consider a credit card balance transfer to consolidate the debt at a low-interest rate. If members owe more than $10,000, offer ways that your credit union can help like personal debt consolidation loans or talking to a loan officer at your credit union to discuss options for using equity if they are a homeowner.
Your credit union should also review existing loans and consider if it's time to refinance for any members. If a member's credit has improved since they took out the loans, they may qualify for lower interest rates. Lower rates can lower your members' monthly payment and reduce the total cost of paying off their debt.
Step 3: Recommend members set up a budget
Finally, counsel your members to review their budgets. Ideally, members should only spend about 75% of their take-home income. That gives them plenty of free cash flow to cover unexpected expenses that could come up each month.
Make sure that members have a savings account with your credit union so that they can begin separating their savings from their cash flow. If possible, recommend that members save about 5-10% of their income each month. To hit his goal, members should work savings into their budget as an expense– like a bill that they pay themselves. This will help ensure that your members save money consistently throughout the year

Learn more about how your credit union can combine professional online education with targeted financial coaching so you can reach more members in a more meaningful way. Watch "Elevate Your Personal Financial Coaching" on demand today.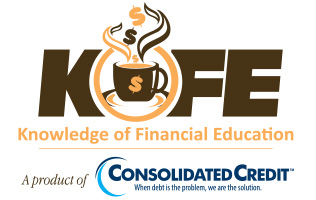 KOFE (Knowledge of Financial Education) is the NAFCU Services Preferred Partner for Financial Literacy. More educational resources and contact information are available at www.nafcu.org/KOFE.
About the Author