4 CRM Hang-ups (And How to Overcome Them)
By Paul Timm, Vice President of Marketing, NAFCU Services
I'm still unpacking the terrific CRM insights shared by Deidre Davis (CMO, Michigan State University FCU) and Pam Piligian (SVP of marketing and communications, Navy FCU) at the recent CEOs and Senior Executives Conference.

In my previous post I shared some key takeaways from our CRM panel discussion. This time around, I want to cover some common CRM hang-ups and holdups we discussed, and how to push through them.
1.    Adaptability beats budget
CRM success stories often highlight the biggest and best-known global brands. (see Starbucks example in my last post) If you only focus on those headlines, it's easy to conclude that only a huge organization with a large budget can succeed with CRM. It's true that bigger organizations have a wider range of technology to invest in, but many credit unions actually have a structural advantage. "Smaller credit unions can take advantage and be more effective more quickly," Deidre said. "They're able to adapt more easily, and can typically get more employees to buy in more quickly."
2.    Common sense can rebuild trust
Even with the best of intentions, the savviest marketers are still capable of missing the mark. The risk is certainly higher with automated and data-driven programs. Add in growing consumer concern about stolen data and breached privacy. Then top it off by chasing consumers around with offers they don't want, and you have a recipe for distrust.
Deidre pointed out that credit unions can avoid a lot of trust blunders simply by mastering the basics—something not every organization does well. She talked about being routinely hounded by the high-speed Internet provider she already uses, and how that organization's obvious lack of attention to detail puts everything else in doubt. "Every other week, I get a solicitation from them asking me to sign up for Internet with them," she said. "Of course, that makes me feel like they don't recognize me or value me as a customer."
Pam echoed that credit unions can do a great deal by simply being smarter about bucketing news and announcements to members based on how likely they are to care. "If you have a member that never, ever does anything in a branch, the last thing you want to do is send them a notification about a new branch opening."
3.    Member tastes vary - 'show them that you know them'*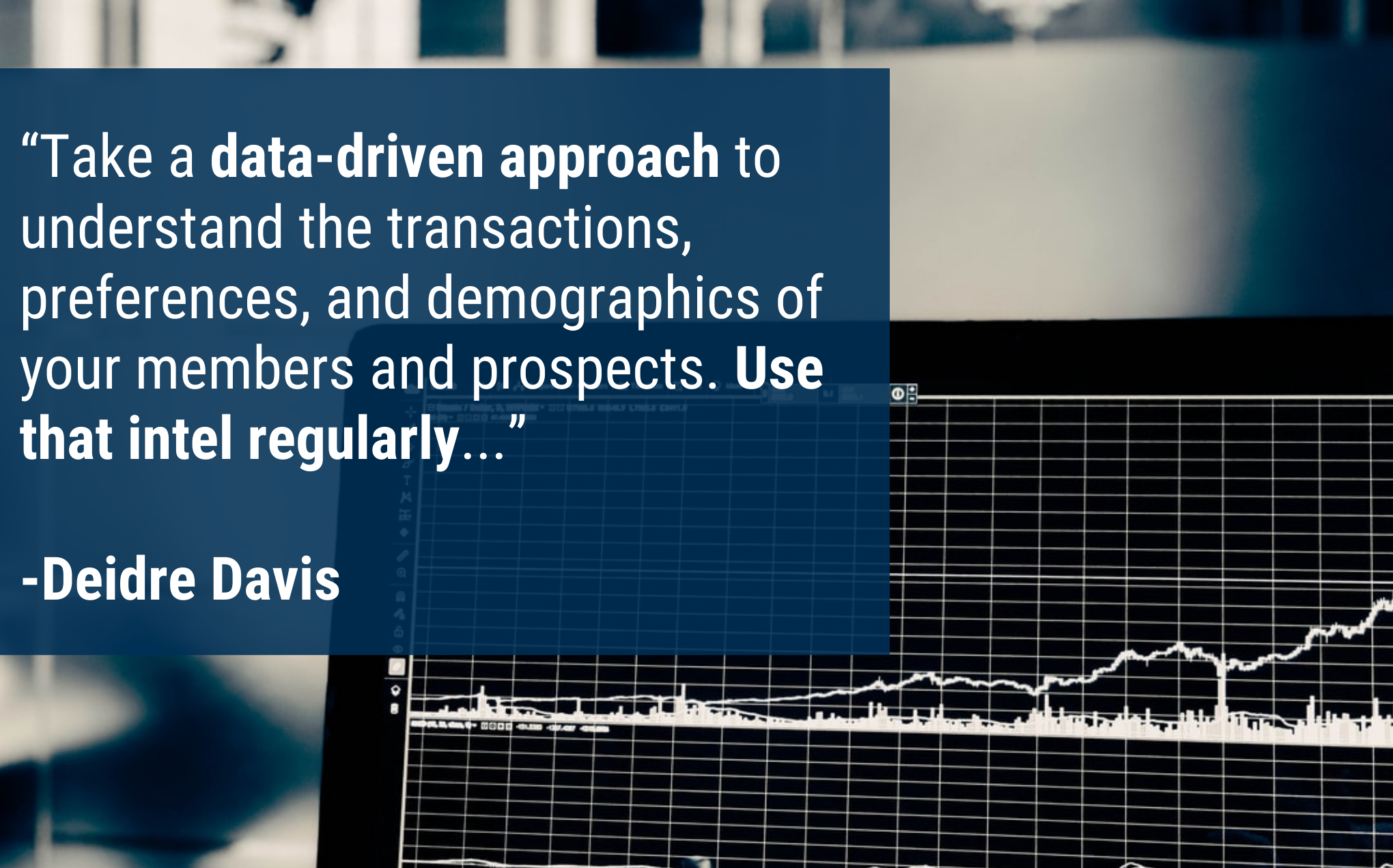 Speaking of trust, it's also important to remember that matters of privacy and hyper-personalization are, well—personal. As in, individual. "There's a trust deficit in the country now that's bigger than it has ever been," Pam said. "I think it gives us an opportunity as credit unions to really have a relationship with our members and to be a bright shining light."
If you encounter a little pushback, it's important to course-correct, but not over-correct. Pam recounted an approach to sending birthday messages. Seems simple enough, but while most members appreciated a kind note about their big day, a small minority were turned off by it. "They don't mind that we know, but they don't want to be reminded that we know their birthday. So we took them out [of the program]," she said. "The line is different for everybody." (*of the many ideas I've lifted from Deidre and Pam, 'show them that you know them' is one of my favorite Pam-isms)
4.    It's a journey – collect wins all along the way
The work of bolstering member relationships is never truly over. So whether you're just starting your CRM efforts in earnest, or in the throes of a planned upgrade, it's a good idea to look for the obvious and quick wins. Don't limit your scope just to applications, purchases, or conversions. Take a data-driven approach to understand the transactions, preferences, and demographics of your members and prospects. Use that intel regularly to enhance your onboarding program, evaluate new products, and of course to better target advertising dollars. With any journey, momentum is key; the same is true for relationships, and ultimately building and running a CRM program. "Don't be overwhelmed by the data… start with something [small] and build from that," Deidre said.
If you want to join more conversations like these, you can always find them at one of the NAFCU conferences. Hope to see you there.
---