Choosing the Right Insurance Provider: 5 Things They Should Bring to the Table
By Tammie Kovacs, TruStage® Program Specialist
Making auto and home insurance available to your members is a great way to help build member relationships and generate profitable non-interest income. While affordable rates and expedient applications are likely already on your provider "must-have" list, here's one that might not be: a great claims process.
According to information obtained from the National Association of Insurance Commissioners reports tool, in 2021 the top five consumer insurance complaints all had to do with claim handling, with delays being the #1 area of complaint.[1]
How does your provider stack up at the "moment of truth"?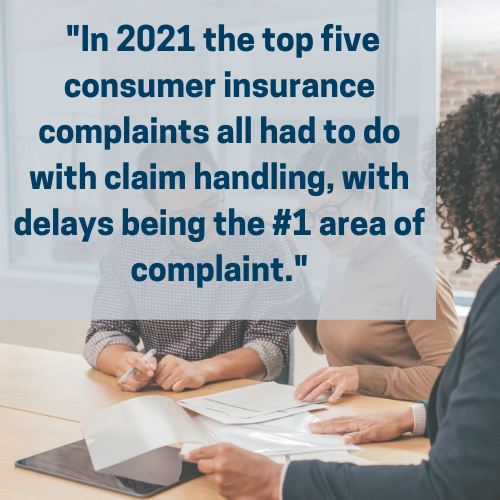 We call the claims experience the "moment of truth" because it's when the whole reason the member bought insurance in the first place comes to life. Will a member who's suffered a loss be A). delighted by an efficient, responsive process—and more tied to your credit union than ever before? Or B), so frustrated they say goodbye to more than their insurance relationship?
Add the following five elements to your list of provider must-haves and you'll increase the likelihood of a Scenario A member claims experience.
To improve the member claim experience, look for these 5 things.
1.      Lingo-free content and built-in member education. The journey to a positive claim experience starts with buying the right coverage in the first place. Look for a provider whose website and marketing tools are written in an easy-to-read, member-friendly style and designed so key content is easy to find. Bonus points if they also offer on-demand educational webinars and insurance information you can conveniently incorporate into your home- or car-buying seminars.
2.      Customizable coverage. No two members have identical insurance needs. Whether a member is a recent college grad looking for renters and car insurance, a young family in their first house, or a retiree with a boat and condo to help protect, you want each to be able to find the coverage that's just right for them. Choose a provider that can meet a variety of coverage needs and offers online tools that are designed to make it trouble-free for members to experiment with different coverage options and price points.
3.      The ability to talk to a person.  Members love digital. But when a member is worried or confused, they might prefer to talk to a real, live person who takes the time to listen and has the knowledge and authority to navigate their problem. Does your prospective provider have a call center and local agents that members can meet with in person? And has the provider's staff been trained to offer credit union-friendly, "people helping people" service?
Even if a member never uses these options, they'll appreciate knowing they're available.
4.      Strong mobile tools. These can be critical to a good claims experience and the most innovative providers have added some great functionality in recent years. Look for a provider that lets the member file a claim right from their phone and makes it easy to share photos of the damage—they might be able to start their claim right at the site of an accident.
The best mobile tools include assisted photo capture, so the member ends up with a useable photo. And they'll leverage an algorithm to determine whether an adjustor needs to come out and see the damage in person—or if the process can move forward automatically. Remember: Delays are the #1 insurance complaint. Think of the time saved if a member doesn't have to wait to schedule an adjustor.
5.      A track record of prompt claims payments. Ask about the average turnaround time for payment and find out if members can file and manage their claims through multiple channels. Liberty Mutual Insurance, for instance, offers claimants the ability to communicate through chatbots, texts, letters and phone calls and reported the following:
·         46% of customers manage claims online, and those who did had Net Promoter Scores of over 60%.2
·         Digital channels can help make it easier for customers to submit damage photos and get an estimate quickly.
·         Communicating with claimants via text got customers back on their feet two days sooner. 
Other indicators a provider is working hard to deliver a good claims experience include strong mobile tools and assigned claims reps. At the time of the claim, the best providers will typically assign a specific rep and route the member directly to them for all future calls.
Although a great claims process is something you hope members never need to experience, it's important to do the upfront work to investigate how the provider makes it as seamless and pain-free as possible. You'll help your member in a challenging time—and help protect your member relationship too.
---
[1] NAIC 2021 Consumer Complaints by Reason  https://content.naic.org/cis_agg_reason.htm
2 Liberty Mutual, June 2020 customer research
TruStage® Auto & Home Insurance Program made available through TruStage Insurance Agency, LLC and issued by leading insurance companies. The insurance offered is not a deposit, and is not federally insured, sold or guaranteed by your credit union. The views expressed here are those of the author(s) and do not necessarily represent the views of CUNA Mutual Group.  
AUT-4368074.2-0322-0424  © TruStage
Disclaimer: The views and opinions expressed in this article are those of the author and do not necessarily reflect the views or positions of any entities they represent.
TruStage® Life Insurance is made available through TruStage Insurance Agency, LLC and issued by CMFG Life Insurance Company. The insurance offered is not a deposit, and is not federally insured, sold or guaranteed by your credit union. CUNA Mutual Group is the marketing name for CUNA Mutual Holding Company, a mutual insurance holding company, its subsidiaries and affiliates. Corporate headquarters are located at 5910 Mineral Point Road, Madison, Wis., 53705.
CORP, GEN-3896522.1-1121-1223 © CUNA Mutual Group
About the Author