COVID is Driving New Member Interest in Life Insurance
These 4 must-haves make it more likely they'll turn to your credit union for critical protection
Kevin Cummer, Senior Product Manager, TruStage
This past year saw a big uptick in life insurance interest. New TruStage life insurance sales were up 51.5% in 2020 vs. 20191 and a 2020 industry survey found 29% of consumers overall reported being more likely to buy insurance in the next 12 months.2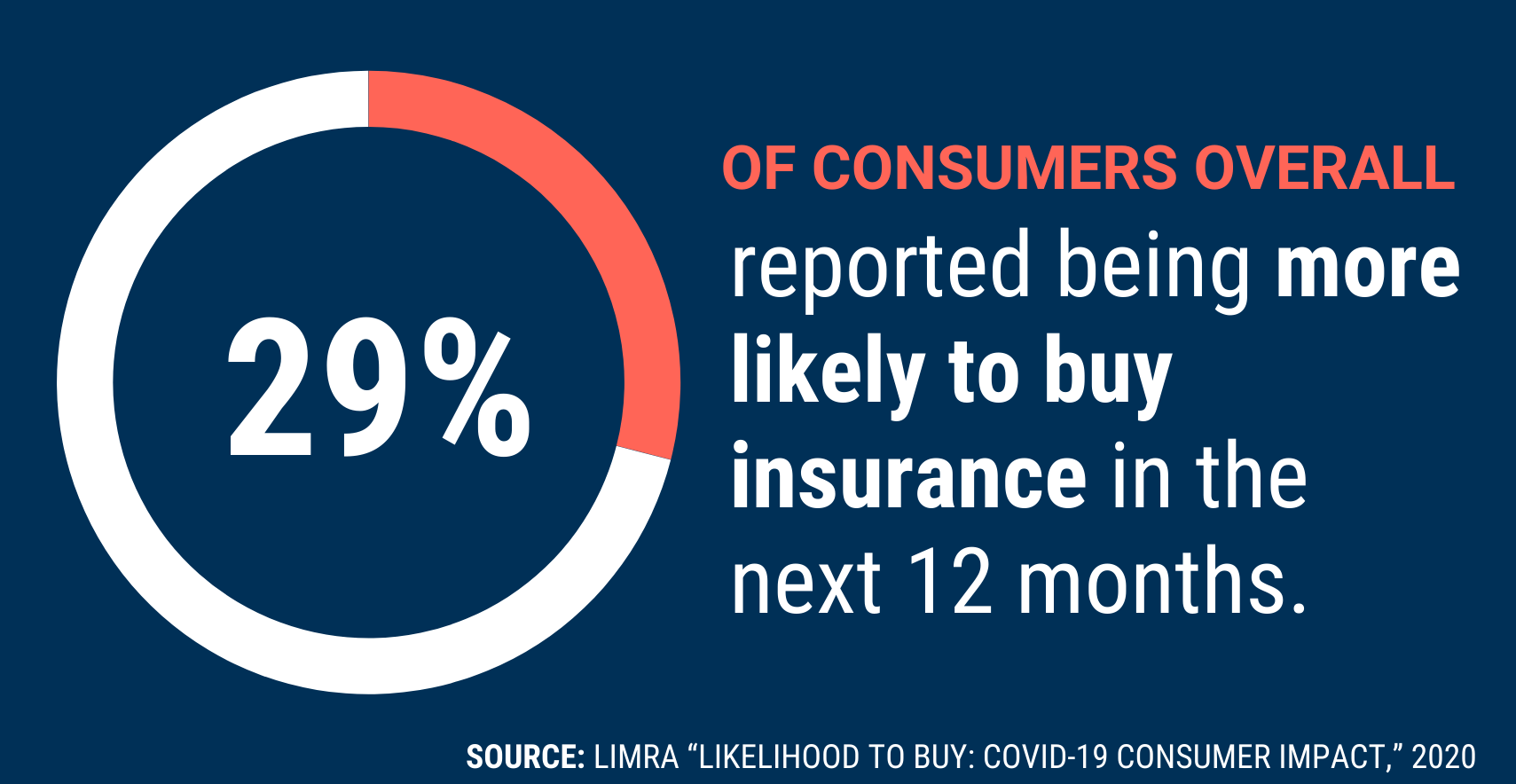 That spike is easy to explain. Members have had to weather a daily barrage of COVID casualty rates—which made the possibility of leaving their family without an income source more real than it might have been in the past.  Plus, those who only had life insurance through their employer faced the possibility of losing coverage if they lost their job. Unemployment rates hit a record high of 14.7% in April 2020,3 and were still nearly double pre-pandemic rates in early 2021.4
But even members who know life insurance is critical, might be overwhelmed by the application and purchase process—and wonder if they can really afford to add this protection to an already stretched budget. Deliver the following must-haves and you'll increase the likelihood members opt to make life insurance happen through your credit union.
Give members four reasons to rely on your credit union for life insurance.
1.    Their choice of channels. Some members will prefer a completely online research and application process—with mobile being a top pick for many. Others will want someone to hold their hand every step of the way. And still others want a hybrid of the two: access to mobile/online tools with a call center backup if they have additional questions. Deliver a full channel range to ensure members get the help they need.
2.    A fast and simple application process—with no medical exam. Members can be intimidated and overwhelmed by life insurance.  Let them know your process is simple, easy to understand and doesn't require them to jump through hoops. Most important? Make sure they know they can get coverage without a medical exam. This is a big worry for many.
3.    Tools that put the focus on the reason they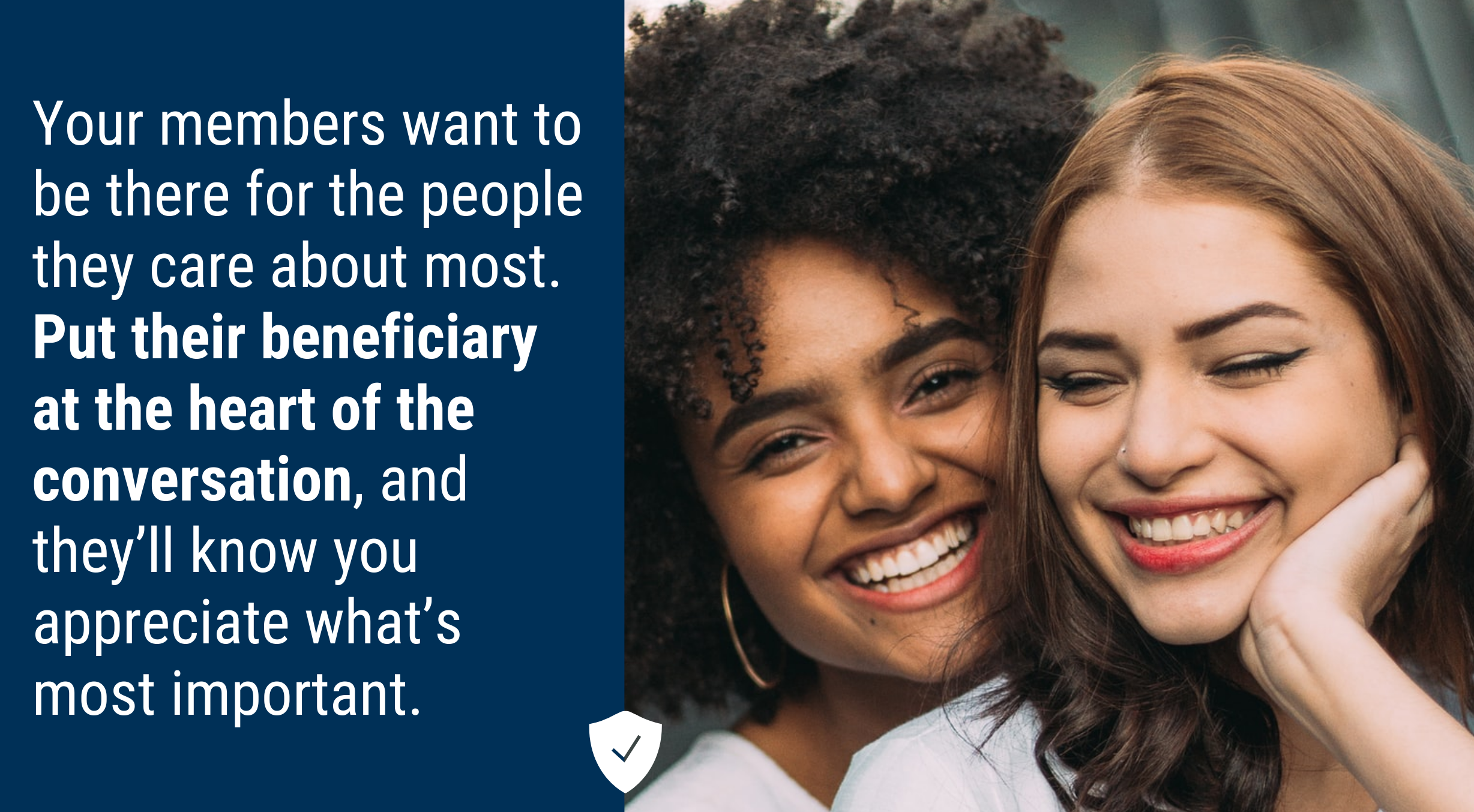 want life insurance: their loved ones. Your members want to be there for the people they care about most. By putting their precious beneficiary at the heart of the conversation, they'll know you appreciate what's most important to them.
4.    A flexible quote tool that lets members buy coverage that fits their budget. This past year has been financially challenging for many of your members. Some have lost jobs or taken a hit to their paycheck: They might know life insurance is important but have a lot of things competing for a share of their budget. Give members a tool that allows them to play with the numbers in private to see exactly how much coverage they can get for their dollar. This a). lets them avoid uncomfortable budget conversations and b). shows them life insurance might actually be much more affordable than they think.
Now more than ever, your members understand the importance of life insurance and are ready to buy. Show them they've got a partner that's putting their needs front and center: Your credit union. To learn more, check out our latest podcast episode.
1CUNA MUTUAL GROUP INTERNAL REPORTS, 2020                                                                                                                                                                                                        2LIMRA "LIKELIHOOD TO BUY: COVID-19 CONSUMER IMPACT," 2020 3U.S. BUREAU OF LABOR STATISTICS, "UNEMPLOYMENT RATE RISES TO RECORD HIGH 14.7 PERCENT IN APRIL 2020," MAY 13, 2020  4U.S. BUREAU OF LABOR STATISTICS, "THE EMPLOYMENT SITUATION—JANUARY 2021," FEB. 5, 2021 
TruStage® Auto & Home Insurance Program is made available through TruStage Insurance Agency, LLC and issued by leading insurance companies. To the extent permitted by law, applicants are individually underwritten; not all applicants may qualify. Discounts are not available in all states and discounts vary by state. A consumer report from a consumer reporting agency and/or motor vehicle report will be obtained on all drivers listed on your policy where state laws and regulations allow. Please consult your policy for specific coverage and limitations. The insurance offered is not a deposit, and is not federally insured, sold or guaranteed by your credit union. AUT-3309937.1-1020-1122
About the Author