Cracking the Code on Health Savings Accounts for Your Members (Part 2)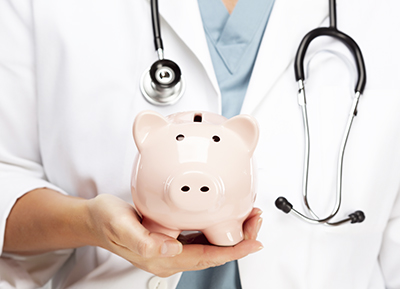 By Kevin Boyles, Vice President, Business Development at Ascensus
In part 1 of this series, we began helping you expand your knowledge about health savings accounts (HSAs) and the benefits available for your credit union members.  In this second installment," we'll highlight additional key benefits and added value of offering HSAs.
HSA = Health Spending Account
While "health spending account" is not what HSAs are technically called, they certainly are used in this way by the majority of Americans who currently have them. In 2013, only about 15% of HSAs were funded to the statutory maximum. However, roughly 80% of HSAs had money come out of them. The majority of HSA owners are using HSAs on a regular basis, and that is just fine. Periodic use of these funds is a part of the reason they were created.
Many people use HSAs as glorified flexible spending accounts and only fund the HSA with as much money as they think they will withdraw in that given year. Many times, this scenario occurs because consumers haven't been properly educated about HSAs and think they will lose their remaining balance at the end of the year, if they do not use all of the funds.
The "use it or lose it" possibility can occur with flexible spending accounts (FSAs) and
cafeteria plans, but NOT with HSAs. Your member's money stays in the HSA and remains under the control of the HSA owner. So while using HSAs as spendin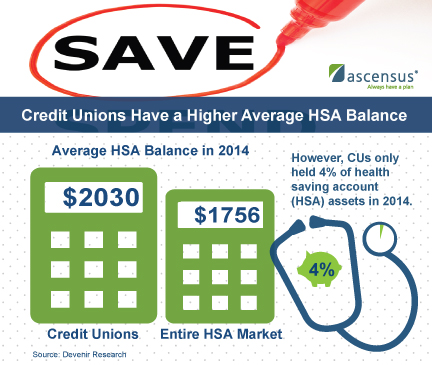 g accounts is not a bad thing, it is certainly an area where your members could use more education.
HSA = Having Something Available
Your institution has a vital role to play in helping your members better manage the money they spend on healthcare costs. With millions of Americans migrating to high deductible health plans (HDHPs), the need for your credit union to offer HSAs is growing.
People from all walks of life are enrolling in these plans and are reasonably expecting that their trusted financial institution can offer HSAs to assist them. Your members' growing need and desire for this product/service offering is the critical element that those of you who do not offer HSAs are missing.
You are unwittingly creating a gap in services to your members, and may be unintentionally inviting your members to look elsewhere for an HSA. Most Americans are now much more likely to move their entire relationship away from a services provider that does not offer everything that they need rather than have piecemeal services with various institutions. Research and polling are showing that this tendency is particularly evident among Millennials.
This key point goes back to the idea that your credit union needs to align its products, marketing, knowledge, and values with what is important to your existing and potential member. Ask yourself, "Can my credit union afford to have a strategy for growth and attracting Millennials that does not include offering a product that is growing at the rate that HSAs are today?"
HSA = Helping Sustain Assets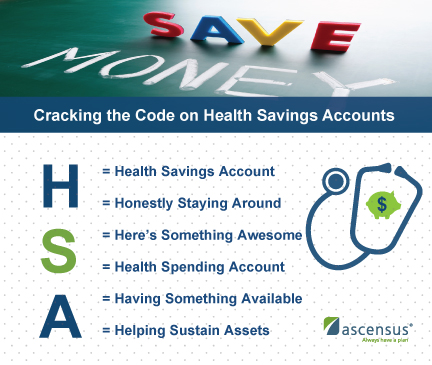 This closing advantage of HSAs works for both your individual members and your credit union. When interest rates finally rise, there will be a massive war for consumer deposits. Having an additional tie to your member with an HSA increases your organization's odds of retaining that member when the war begins.
Any additional line of business with a member strengthens your relationship, this benefit is not exclusive to HSAs, but tax-preferred accounts are generally viewed by consumers as painful and difficult to move.
The other important role for your credit union in this space is to help your members accumulate savings for future medical expenses. These accounts don't start out with enough money in them to attract to brokerage or investment firms. So, the responsibility of supplying this type of support falls squarely on credit unions and banks. If a core part of your charter or mission statement is to help Americans save money, then HSAs need to be an important part of that objective.
Your role needs to go beyond just offering HSAs. Your organization should understand your members' needs and have a handle on how HSAs can work for them. We're not talking about giving financial or tax advice, but having a solid and fundamental knowledge of how HSAs work and can benefit the average saver.
HSAs really can do more than most people realize. The multiple benefits of HSAs are accessible for the taking by your credit union and its members.

Kevin Boyles will speak about this topic and be available to answer your questions about HSAs during NAFCU's Annual Conference and Solutions Expo held in Montréal, Canada. Join us for the session "Health Savings Accounts, IRAs, & Millennials: A New Generation Presents New Opportunities" on Wednesday, June 24th.
Location: Solutions Theater, Exhibit Hall 220
Time: 1:45 p.m. – 2:15 p.m.

Ascensus, Inc. is NAFCU Services Preferred Partner for IRA, retirement plan, and health savings account (HSA) solutions software, training, documents and consulting. For more information on Ascensus' products and services, visit www.nafcu.org/ascensus.
About the Author