Insurance and Financial Wellness in a Medical Crisis
By Kym Ortiz | VP, Business Development | Franklin Madison
The coronavirus pandemic made 2020 a challenge to say the least, but it also brought to light the increased need for educating consumers on financial wellness. In our last blog, we discussed how many consumers do not have access to $400 in case of emergency. Coronavirus has highlighted this crisis, and credit unions can use this opportunity to educate consumers about savings and insurance to help buoy them through difficult times.
One-third of Americans have lost income because of the virus, and 58% of people are saying that they are experiencing some degree of financial stress due to the pandemic.1 With the devastating number of job losses and the large blow the American economy has taken, it is no surprise that many people's finances have been hit hard, and those who are the most financially vulnerable now face the reality of not being able to pay bills, rent, or any other sudden expenses.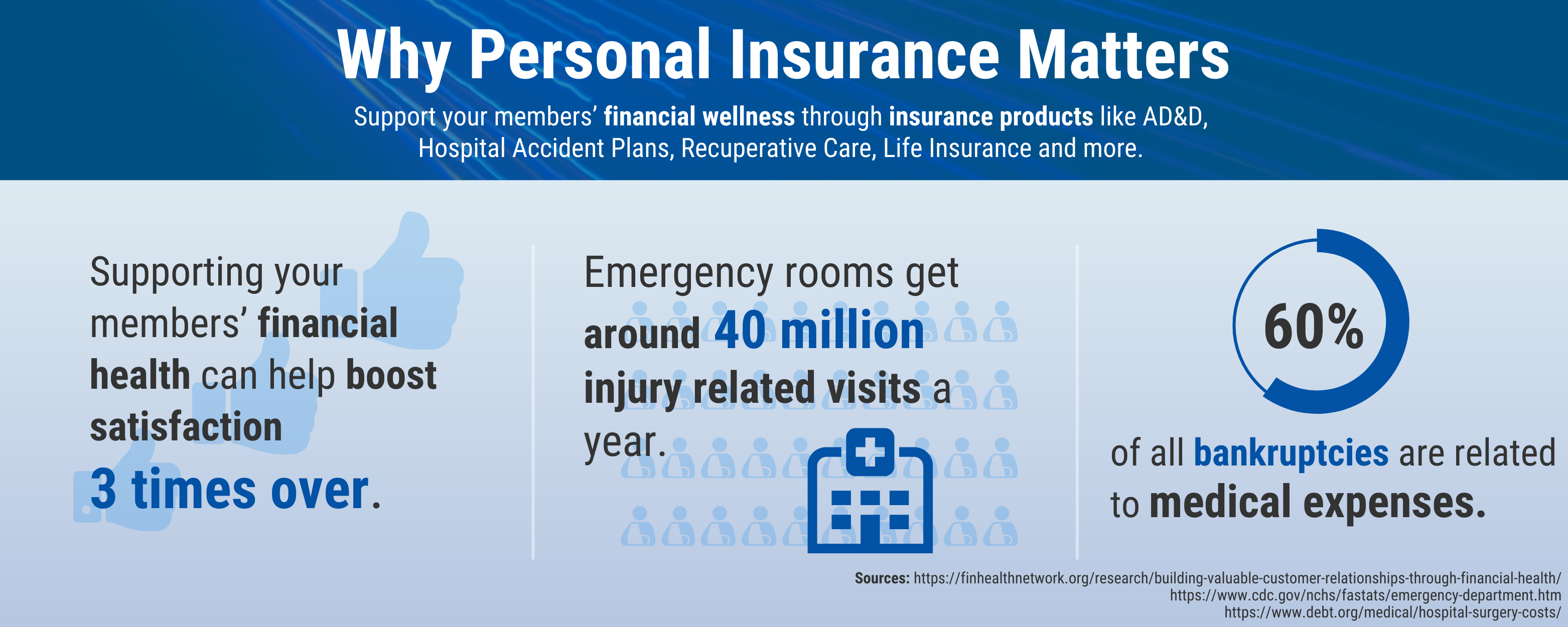 However, insurance can help provide a safety net for these unexpected financial bumps in the road. Supporting your members' financial health can even help boost satisfaction 3 times over2, strengthen loyalty that helps with word of mouth and length of relationships, and provide opportunities for deepening your relationships with your members. 
Even without a virus ravaging the world, injuries have long taken a toll on our wallets, as well as our bodies. Behind heart disease and cancer, accidental injuries are the third leading cause of death in America.3 As for the number of all injuries, whether fatal or nonfatal, emergency rooms get around 40 million injury related visits a year.4 Depending on how serious the injury, it can greatly increase the cost of medical care.
Medical expenses in the United States are incredibly high, and while the bodies of patients eventually heal, their wallets often do not. In fact, 60% of all bankruptcies are related to medical expenses.5 With all of this in mind, what can be done to help consumers not go into debt if they need care? Obviously, having health insurance is important; but we are still dealing with the coronavirus, and the loss of jobs means that many more people are uninsured. What is clear is that Americans need protection, and those who provide it need to reach out with educational resources and a compassionate understanding of members' needs.
Ensure your credit union is supporting your members' financial wellness through insurance products like Accidental Death & Dismemberment, Hospital Accident Plans, Recuperative Care, Life Insurance and more. Insurance plays a critical role in credit union members' financial wellness, and as stewards of prudent financial institutions, you have the trust and tools to help. 
---
1 https://www.globenewswire.com/news-release/2020/05/26/2038685/0/en/Inco… 2 https://finhealthnetwork.org/research/building-valuable-customer-relati… 3 https://www.iii.org/fact-statistic/facts-statistics-mortality-risk           4 https://www.cdc.gov/nchs/fastats/emergency-department.htm                                                                                          5 https://www.debt.org/medical/hospital-surgery-costs/
About the Author