Lenders Speak on the Homebuying Process
By Paul Timm, Vice President, Marketing & Strategic Development | NAFCU Services 
I recently posted about the research results our friends at Blend and Aite-Novarica shared regarding the homebuying experience. They surveyed more than 2,000 American consumers with a recent home-mortgage purchase, and then spoke directly with lenders about the challenges in today's market. We hosted them for a webinar and here's what they had to say about the lenders' perspectives on reshaping the homebuying journey.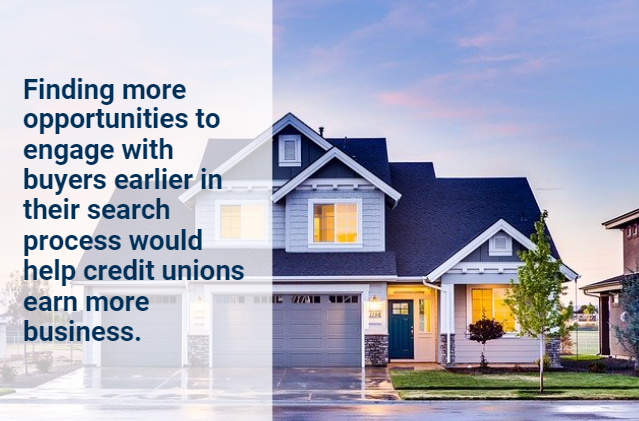 Lenders aren't involved in the buying journey as early as they could be. The homebuying process has been reshaped by digital tech, but in some ways not enough, and not all of the changes have been positive for lender/buyer relations. In particular, lenders told Blend that less than half the time are they included near the beginning of the search process. Many buyers still must be told by agents to seek out information on their creditworthiness, which usually includes referrals by the agent to specific lenders. And because the overall buying process has been accelerated, lenders note that many potential borrowers carry unrealistic expectations about low rates and quick decisions into these discussions. Finding more opportunities to engage with buyers earlier in their search process would help credit unions earn more business. 
Talent shortages and overwork can dampen relationships with borrowers. Lenders also reported that they had a difficult time meeting historically high demand for home loans in recent years. Those challenges affected both the top of the funnel as well as the overall homebuying journey. In many cases extending decision and processing times. When lenders couldn't hire enough officers to meet demand they began missing out on the opportunity to win business. Even in a softening market, if loan officers can't quickly answer buyer questions during the selection process, they risk losing out to higher-tech lenders at the eleventh hour.  
Providing a holistic buyer portal could help lenders on multiple dimensions. As we've heard from the consumer research, and now from the lenders themselves, the homebuying experience can be complicated, lengthy, frustrating, and even intimidating. Seems like the perfect place for credit unions to provide a unified, trustworthy, and accelerated solution. Blend and Aite talked with some lenders about the concept, and most were intrigued by the opportunity to provide a compliant education and purchase portal to buyers as a way to consolidate communications and partner offers under one roof. Access to on-demand information would reduce the administrative burden that can arise by loan-status questions and keep buyers in control with self-service tools. And the lenders agreed the combined convenience and discounted services which could be bundled in such a portal could help them develop more competitive offers. All much easier said than done of course. But a worthy and worthwhile cause in the spirit of digital transformation, improving the homebuying experience, and enhancing overall member service.   
We're proud to have partners like Blend who are always working to advance the industry's knowledge about the homebuying journey and to help in re-imagining the process. If you'd like to know more, their complete survey results can be found in the report, Reframing the Homeownership Journey: Consumer-Focused, Lender-Led. 
---
About the Author