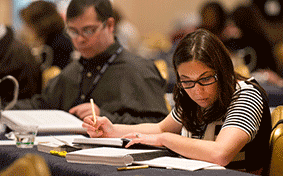 How to get certified
To earn the NCCO certification, an individual must pass a series of four examinations developed by industry-leading compliance experts. This can be done from the convenience of your home or office:
Attend NAFCU's Regulatory Compliance School
Take the four required exams during NAFCU's Regulatory Compliance School On-Demand. You may also opt to take the exams at another time, as long as you have passed all four exams by August 31 of the year you attended the in-person school or by December 1 of the year you attended the on-demand school.  
About the certification exams
The four exams cover a wide variety of compliance topics. Each exam contains 50 questions, with a mix of True/False, Yes/No and complex multiple-choice questions. A passing grade is 76% correct (38/50). Exam topics are all covered in NAFCU's Credit Union Compliance Roadmap as outlined below by topic and number of exam questions for each.
Exam 1
| | |
| --- | --- |
| Chapter and Section of the Compliance GPS | 50 Questions |
| Chapter 1, Section 1: The Legislative and Regulatory Process | 4 Questions |
| Chapter 1, Section 2: The Federal Credit Union Act and the NCUA | 4 Questions |
| Chapter 1, Section 3: The Consumer Financial Protection Bureau | 2 Questions |
| Chapter 1, Section 4: NCUA Supervision and Examination | 6 Questions |
| Chapter 1, Section 5: Federal Credit Union Governance | 8 Question |
| Chapter 1, Section 6: Federal Credit Union Powers and Limitations | 7 Questions |
| Chapter 1, Section 7: Field of Membership for Federal Credit Unions | 5 Questions |
| Chapter 2, Section 3: Share Insurance | 6 Questions |
| Chapter 3, Section 1:  NCUA Lending Requirements | 8 Questions |
Exam 2
| | |
| --- | --- |
| Chapter and Section of the Compliance GPS | 50 Questions |
| Chapter 2, Section 1: Regulation D | 4 Questions |
| Chapter 2, Section 2: Regulation E | 10 Questions |
| Chapter 2, Section 4: Regulation CC | 7 Questions |
| Chapter 2, Section 6: Truth in Savings | 10 Questions |
| Chapter 2, Section 7: E-SIGN Act | 4 Questions |
| Chapter 4, Section 2: Privacy of Member Information | 15 Questions |
Exam 3
| | |
| --- | --- |
| Chapter and Section of the Compliance GPS | 50 Questions |
| Chapter 3, Sections 2 - 3, 5: CFPB's Regulation Z | 9 Questions |
| Chapter 3, Section 4:  Special Credit Card Rules | 5 Questions |
| Chapter 3, Section 6: TILA/RESPA Integrated Disclosures | 6 Questions |
| Chapter 3, Section 7: ATR / Qualified Mortgages | 4 Questions |
| Chapter 3, Sections 9 - 13: Special Mortgage Rules | 7 Question |
| Chapter 3 Section 14: Lending to Servicemembers - MLA & SCRA | 7 Questions |
| Chapter 3, Section 15:  Regulation B | 4 Questions |
| Chapter 3, Section 16:  Fair Lending | 4 Questions |
| Chapter 3, Section 18:  Fair Credit Reporting Act | 4 Questions |
Exam 4
| | |
| --- | --- |
| Chapter and Section of the Compliance GPS | 50 Questions |
| Chapter 3, Section 8: Mortgage Servicing | 10 Questions |
| Chapter 3, Section 17: The Real Estate Settlement Procedures Act | 4 Questions |
| Chapter 3, Section 19: Loans in Flood Hazard Areas | 3 Questions |
| Chapter 4, Section 1: BSA and OFAC | 14 Questions |
| Chapter 4, Section 3: Information and Data Security | 10 Questions |
| Chapter 4, Section 4: Vendor Management | 5 Questions |
| Chapter 4, Section 5: The Telephone Consumer Protection Act | 4 Questions |