June 24, 2019
2018 NAFCU/PAC CU award winners announced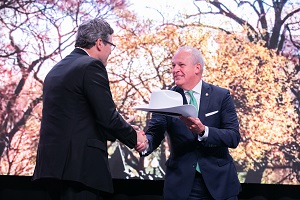 Winners of the NAFCU/PAC 2018 White Hat Award and Credit Union Challenge Awards were announced Friday during the association's 52nd Annual Conference and Solutions Expo in New Orleans.
"Washington, D.C., is a tough town," said Brian Schools, NAFCU/PAC committee chair and president and CEO of Chartway Federal Credit Union as he presented the awards Friday. "Even with our good works, even with our fantastic service to Americans, there are those that would block us, impede us, try to pull us back.
"We must tell our story, and we must fight back against baseless attacks against our industry. To do that, NAFCU relies on our political action committee – NAFCU/PAC – which plays an integral role in helping credit unions achieve our federal advocacy goals on Capitol Hill," Schools stressed.
"Ensuring the credit union industry has a strong presence in Washington is as important today as it has ever been, and NAFCU thanks these credit unions and industry professionals for dedicating themselves to advancing the industry and its 117 million members," said NAFCU President and CEO Dan Berger in a release. "It is an honor to recognize their achievements in front of credit union leaders and industry professionals at our Annual Conference and Solutions Expo."
The White Hat Award is given to the NAFCU member credit union that raised the most money for NAFCU/PAC in the previous year. This year's winner is Members 1st Federal Credit Union, headquartered in Mechanicsburg, Pa. This is the 15th time that Members 1st has won the award.
"Under the leadership of George Nahodil, Members 1st FCU has helped the credit union industry and its members tremendously through its successful political fundraising efforts," said Berger. "We thank them for their commitment to the industry's not-for-profit, cooperative mission, and for working to ensure our industry's voice remains strong on Capitol Hill."
Three credit unions won the Credit Union Challenge Award for raising the most money in direct individual contributions for NAFCU/PAC within their respective asset categories in 2018.
The winners are:
Keys Federal Credit Union in Key West, Fla. (less than $250 million in assets);
Gulf Winds Federal Credit Union in Pensacola, Fla. ($250 million to $750 million in assets); and
Visions Federal Credit Union in Endwell, N.Y. (greater than $750 million in assets).
President and CEO of Visions Federal Credit Union, Ty Muse, won the individual Challenge Award, which goes to the person who contributed the most to NAFCU/PAC in the previous year.
NAFCU's 52nd Annual Conference and Solutions Expo was sponsored by NAFCU Services Corporation Preferred Partner Mastercard. Next year's event is scheduled June 23-26 in Vancouver; register now and save $200 with code VANCOUVER. Code expires July 19.
Related Resources
Consumer Lending
Blog Post
Add to Calendar 2023-11-28 09:00:00 2023-11-28 09:00:00 Growing Creatively & Innovatively in 2024 Listen On: Key Takeaways: [0:58] What can credit unions do to best prepare themselves for 2024? [2:12] Although he sees a glimmer of hope, Jack points out that the liquidity crisis and slow prepayment speeds hamper rapid recovery. [5:22] We discuss how credit unions seek low loan growth through member-centric strategies such as second mortgages and home improvement lending. [7:34] Credit unions are leveraging advancing technology for member-focused engagement. [9:31] How will technology continue to evolve and affect credit unions? [11:43] What role does AI play in innovative growth? [14:14] Credit unions adopt technology for efficiency, enabling staff to focus on personalized member interactions, especially with younger generations. [17:14] Closing thoughts, emphasizing competition against banks and fintech for younger generations. Web NAFCU digital@nafcu.org America/New_York public
Strategy & Growth, Consumer Lending
preferred partner
Allied Solutions
Podcast
---
Get daily updates.
Subscribe to NAFCU today.