August 28, 2020
4 things to know this week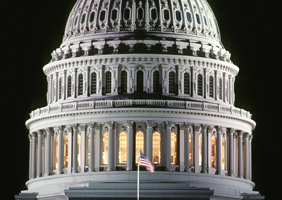 NAFCU's widely-read NAFCU Today is credit union leaders' go-to source for the latest on issues impacting the credit union industry. For those short on time, here's a roundup of this week's top need-to-know news related to the Federal Open Market Committee's (FOMC) updates to its monetary strategy, cybersecurity threats, the paycheck protection program (PPP) and economic impact payments (EIPs).
Fed adapts strategy to meet challenges
The FOMC Thursday released an update to its Statement on Longer-Run Goals and Monetary Policy Strategy to reflect economic changes in the past 10 years and corresponding monetary policy approaches. Fed Chair Jerome Powell also offered remarks on the changes during the FOMC's annual retreat.
"The FOMC's new framework looks to avoid mistakes of the past," said NAFCU Chief Economist and Vice President of Research Curt Long. "Where some of the tightening which took place during the last cycle was done to short-circuit the inflation that policymakers thought was right around the corner, now they will wait until those stresses manifest more fully before raising rates. In focusing on 'shortfalls' rather than 'deviations' from full employment, it orients the Fed to pursue a tighter labor market without worrying so much about its potential to drive price increases."
Significant changes to note include:
on maximum employment, the FOMC emphasized that maximum employment is a broad-based and inclusive goal and reports that its policy decision will be informed by its "assessments of the shortfalls of employment from its maximum level;"
on price stability, the FOMC adjusted its strategy for achieving its longer-run inflation goal of 2 percent by noting that it "seeks to achieve inflation that averages 2 percent over time," adding that, to achieve it, "following periods when inflation has been running persistently below 2 percent, appropriate monetary policy will likely aim to achieve inflation moderately above 2 percent for some time;" and
explicitly acknowledging the challenges for monetary policy posed by a persistently low interest rate environment.
Cybersecurity threats to watch
As fraud and cybercrime have increased amid the coronavirus pandemic, there are several new reports on threats for credit unions to be aware of:
Barracuda published a spotlight on ransomware, noting that "cybercriminals are also leveraging the COVID-19 pandemic and remote work to wreak havoc on organizations." The most targeted sectors include government, healthcare, and education, as well as others that are central to recovering from the pandemic.
Intsights has a new report detailing China's cyber efforts "to exert its influence over the dynamic global digital landscape." The report looks at its cyber espionage campaigns, military-led cyber offensive attacks, newly developed malware, and more.
For those looking to better understand identity theft threats, KrebsOnSecurity has an in-depth feature with insights from a Secret Service Agent and a cybercriminal who amassed over $3 million from selling stolen identity records to thieves and organized crime rings.
NAFCU recently launched its newest network – the NAFCU Cybersecurity & IT Network – to foster a culture of information sharing and connection for credit unions working to bolster their cybersecurity and internal systems. The association has many resources available to ensure credit unions can effectively identify and address cybersecurity concerns and continues to advocate for national standards for data security and privacy.
Another case of PPP fraud
A Minnesota man has been charged with fraudulently obtaining $841,000 in PPP loans for a construction business, which had received a cease and desist order in 2018 and its contractor license had expired in 2019. Kyle Brenizer's first application was denied, and he used another person's name on a second application in which he lied about having 30 employees with an average monthly payroll $336,400. He used the funds received to buy a Harley-Davidson motorcycle, cover golf expenses, and make other personally benefiting purchases.
While the PPP's authorization expired Aug. 8, with almost $134 billion in funding remaining, lenders and borrowers are now working through the forgiveness process. The SBA has released additional information on the forgiveness process, including appeals, and is set to host a webinar Sept. 3 – which had been scheduled for yesterday but was postponed – for lenders on the Loan Forgiveness Platform.
NAFCU continues to advocate for a simplified loan forgiveness process for loans under $150,000 and has updated its FAQs as more forgiveness guidance has been released. 
How to help non-filers access EIPs
The CFPB has published a guide to assist intermediaries in helping consumers access EIPs. While most people received EIPs – part of the CARES Act coronavirus relief package – based on their 2018 or 2019 tax return and other government benefits, non-filers are able to use the IRS' non-filers tool before Oct. 15 to claim their funds. The CFPB is working in coordination with the IRS to bring awareness to EIP and reach those who are not required to file a tax return because their income falls below filing requirements.
Related Resources
---
Get daily updates.
Subscribe to NAFCU today.