August 09, 2018
40 CUs reveal how to effectively reach minority households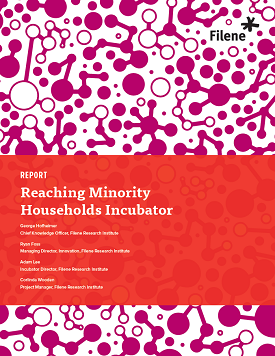 Forty credit unions tested five financial products over an 18-month period meant to fill the gap in the credit needs of minority households. The research, conducted by and revealed in a recently released Filene Research Institute report, found that products created for these households can have a meaningful impact.
Filene, Visa and the Ford Foundation worked together to launch this Reaching Minority Households (RMH) Incubator. Filene says the incubator was meant to "test, package, and deliver viable financial products with an established track record of results."
Each of the five products tested by credit unions were already available on a smaller scale and had shown potential. The 40 credit unions generated 58,482 loans totaling $84.8 million and reached 18,559 consumers.
The five products tested include:
Individual Taxpayer Identification Number (ITIN) Lending, which are loans meant for noncitizen members;
Data Mined Auto Loans, which include techniques used to identify households that could benefit from an auto-loan refinance;
QCash Small-Dollar Loans, which are small-dollar loans based on relationship factors other than credit score that rely on rapid underwriting and disbursement via a mobile application;
Community Microfinance Small-Business Lending, which is microloans given to entrepreneurs; and
Payday Payoff Installment Loans, which are loans purposed to consolidate high-rate payday loans or other debt into one affordable payment by leveraging alternative data for underwriting.
Results from these tested programs revealed that credit unions and other traditional financial institutions can reach minority household and that serving these households is not a one-size-fits-all endeavor. Filene noted that while these credit unions started with a playbook for each of the programs, they all adjusted their rates, processes and marketing to meet the needs of those they were serving.
The report also found that these programs should be offered in conjunction with other services as a way to meet the ongoing needs of minority households. It is also important for financial institutions to go beyond traditional ways of measuring a potential customers' creditworthiness, such as cell phone and rent payments, the report found.
NAFCU is supportive of a bill currently pending in Congress (H.R. 4665) that would allow credit unions of all charter types to add underserved areas to their fields of membership. Furthermore, the NCUA has finalized field-of-membership rules that provide NAFCU-sought changes to help federal credit unions reach potential members who want and need affordable financial services.
Get daily updates.
Subscribe to NAFCU today.