March 17, 2023
5 things to know this week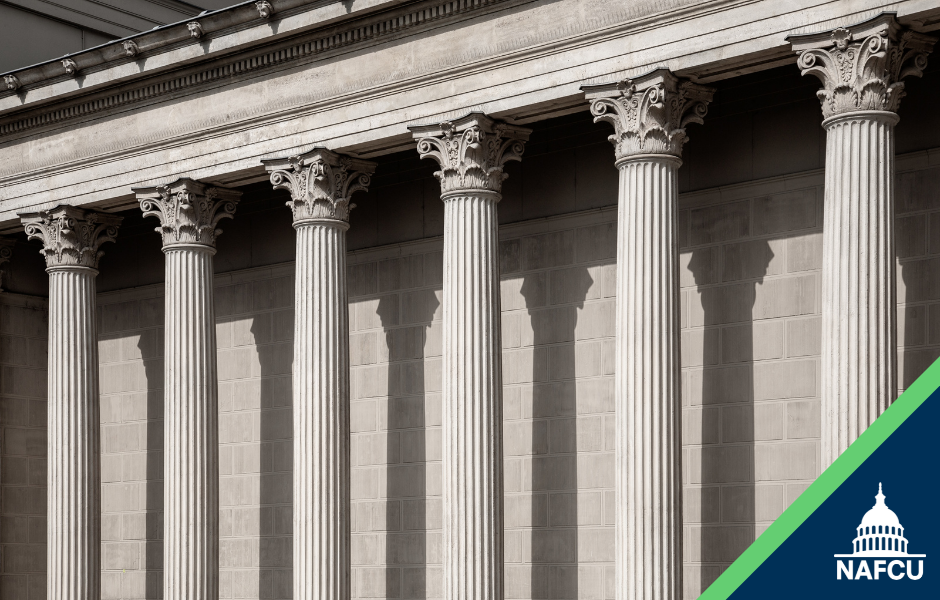 NAFCU's widely read NAFCU Today is credit union leaders' go-to source for the latest on issues impacting the credit union industry. For those short on time, here's a roundup of this week's top need-to-know updates and resources.
CUs win $28.5M in Wawa settlement
A group of financial institutions, led by three credit unions, were awarded $28.5 million in a settlement with Wawa for the convenience store chain's 2019 data breach that affected more than 850 locations and compromised more than 30 million cards.
The settlement provides $18.5 million to compensate financial institutions for costs accrued by card cancellations and replacements, as well as $8 million to cover fraudulent charges on members' cards.
NAFCU continues to lead efforts for a national data security standard to hold accountable all entities that collect and store consumer data, and protect credit unions and their members from negligent practices.
Group sets record straight on interchange, credit card rewards
The Electronic Payments Coalition (EPC) is hitting back at a recent op-ed published in The New York Times that made several misleading claims about credit card rewards programs in a push for extending card routing requirements and interchange caps to credit cards.
In a Myth vs. Fact sheet, the EPC sets the record straight by highlighting credit card reward programs are used across income levels, card payments cost less to process than cash transactions, and financial institutions use interchange fees to invest in stronger, safer payments systems – whereas merchants have failed to pass savings from the implementation of price caps onto consumers.
The coalition says these claims "are consistently repeated by merchant and retail special interest groups that are funded by mega-retailers like Walmart and Target." NAFCU relentlessly advocated against interchange expansion last Congress and is prepared to fight back again – NAFCU President and CEO Dan Berger last month sent a letter to Capitol Hill highlighting how these efforts are "the height of hypocrisy."
The association is urging credit unions to use NAFCU's Grassroots Actions Center to send a message to their lawmakers urging them to oppose the harmful legislation. NAFCU also encourages credit unions to share a statement that the association can publicly use with media, members of Congress, and others to oppose this bad policy. 
More fallout from bank failures
In the wake of Silicon Valley Bank and Signature Bank's failures, Moody's this week downgraded the U.S. banking industry's outlook from "stable" to "negative." The ratings firm cited "rapid deterioration in the operating environment" following the deposit runs that led to the failures.
The ratings drop came despite federal banking regulators' efforts to protect the financial system and reassure consumers quickly after the insolvencies. NAFCU President and CEO Dan Berger also sent a message to member credit unions reiterating the strength of the credit union industry and safety of credit union deposits.
Treasury Secretary Janet Yellen Thursday provided some additional insights during testimony before the Senate Finance Committee, noting that these failures were the result of liquidity issues – rather than capital, which is what stress tests focus on – and additional review of the situation is needed. Federal Reserve Vice Chairman for Supervision Michael Barr has been tasked with reviewing the banks' supervision. Yellen and lawmakers also discussed the approaching debt limit and President Joe Biden's proposed 2024 budget.
CFPB updates HMDA charts with threshold change
The CFPB this week released updated transactional coverage and institutional coverage charts to help financial institutions determine if they or certain loans are covered by Regulation C and require Home Mortgage Disclosure Act (HMDA) reporting. The charts direct users to the bureau's updated reference chart for HMDA data to be collected in 2023.
This year, the HMDA threshold for reporting data on closed-end mortgage loans is now 25 loans in each of the two preceding calendar years after the U.S. District Court for the District of Columbia last year vacated a portion of the CFPB's 2020 HMDA Final Rule, which had raised the reporting threshold to 100 loans. The NCUA released a Regulatory Alert to credit unions on the reporting change, noting that it will take a flexible supervisory approach to give institutions time to comply with the requirements.
NAFCU details 40-year mortgage modification rule
NAFCU sent member credit unions a Final Regulation Thursday detailing the final rule issued by the Department of Housing and Urban Development (HUD) to allow a standalone 40-year loan modification for mortgagees with Federal Housing Administration (FHA)-insured loans to cure a borrower's default. NAFCU offered support for the rule as it would make homeownership more affordable and support generational wealth building.
In the alert, NAFCU noted HUD is aligning with the government-sponsored enterprises (GSEs), NCUA, and the U.S. Department of Agriculture (USDA) and ensuring that FHA borrowers receive comparable opportunities for home retention. The association also highlighted that:
although interest rates have increased since the proposed rule was issued, this modification remains a critical home retention tool for borrowers;
the 40-year loan modification is not replacing the 30-year modification, and both should be used by mortgagees where they would best assist the borrower in retaining their home and reducing risks to the FHA's Mutual Mortgage Insurance (MMI) Fund; and
further guidance about how this rule will be implemented within HUD's loss mitigation program will be published in HUD policy. This rule does not preclude HUD from making additional changes or making additional options available for mortgagees to use with struggling borrowers.
The final rule goes into effect May 8.
Related Resources
---
Get daily updates.
Subscribe to NAFCU today.