April 26, 2022
Berger: Big banks have abandoned underserved communities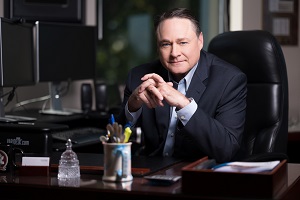 In a new op-ed for American Banker, NAFCU President and CEO Dan Berger calls out the soaring closure rate of big bank branches and its disproportionate impact on underserved, rural communities, while simultaneously hastening the formation of banking deserts. Recognizing the toll the pandemic took on local economies, Berger mentions that while Americans and Main Street small businesses were seeking leadership and guidance from financial institutions big banks "began closing their doors in communities already suffering from financial and other disparities."
Berger cites a National Community Reinvestment Coalition (NCRC) report which revealed that America's banks took advantage of the crisis to accelerate the pace of already planned branch closures, with one-third of these closures concentrated in low- to middle-income and minority neighborhoods over the past five years. "Since March 2020, banks have closed more than 4,000 branches across the country. At 201 closures per month, they doubled their closure rate which - for the past 10 years - averaged around 99 per month," wrote Berger.
Meanwhile, credit unions actually increased their presence in these communities by 2.4 percent; NCUA data even shows that credit union branches maintained the same levels throughout the first year of the pandemic, and "that more than 730 credit unions continued plans to add branches to their networks," noted Berger. 
Other reports, including one released by the CFPB, reaffirm the detriment bank branch closures have on consumers in rural areas and note how at the same time credit unions are expanding to fill the banking desserts created by these bank closures. An American Economic Association study also finds that the rise of these closures have led to a persistent decline in community small business lending, stunting small business growth overall.
Offering support for the House Financial Services Committee Chairwoman Maxine Waters', D-Calif., recently introduced legislation, H.R. 7003 The Expanding Financial Access for Underserved Communities Act, Berger wrote that this bill "will continue to support credit unions and their long-established efforts to eliminate financial disparities in underserved communities across our country."
Unsurprisingly, banks have opposed this legislation, falsely claiming that all credit unions can enter underserved areas. "The banking industry's opposition directly undermines the bill's goal to expand financial opportunities for consumers in low- to moderate-income communities and create more access to small business lending," expressed Berger. 
Of note, NAFCU Senior Vice President of Government Affairs Greg Mesack sent a letter to Chairwoman Waters and Ranking Member Patrick McHenry, R-N.C., reiterating support for the bill and offering a response to the banking groups' opposition. 
"It is unfortunate that banking groups continue to actively oppose H.R. 7003, attacking efforts by credit unions to do more to help the underserved, rather than focusing on ensuring people who live in banking deserts – areas that banks have abandoned -- have access to basic financial services," wrote Mesack. 
In addition, Mesack shared the restrictions credit unions face when trying to help these underserved communities, including the limitations of the industry's field of memberships. Regardless of the banks' tireless attacks and those limitations, Mesack articulates all that credit unions do to continue to provide financial services to rural and underserved areas. 
"Credit unions are inherently invested in their communities, uniquely operating with a not-for-profit cooperative structure and a common bond membership.  Credit unions embrace the critical role they play in providing important financial services to underserved individuals," concluded Mesack.
 
Read Berger's op-ed and Mesack's letter to the committee. NAFCU continues to engage Congress on this important legislation and further credit unions' ability to help Americans achieve financial freedom.
Related Resources
Examination & Enforcement
Blog Post
Add to Calendar 2022-06-28 14:00:00 2022-06-28 14:00:00 5 Ways You Can Help Older Members Avoid Fraud and Financial Exploitation In this webinar you'll learn how to identify, prevent, respond, and report scams and fraud targeting older adults. Though anyone can experience fraud and financial exploitation, scammers and other bad actors often target older adults. Explore why your older members may be at risk, who the abusers are, and red flags to identify scams and fraud. You will also hear about steps that older adults, their caregivers and loved ones, and credit union staff can take to spot and report financial exploitation if it does occur. In 5 Ways You Can Help Older Members Avoid Fraud and Financial Exploitation, you will get a baseline understanding of elder financial exploitation and what you can do about it. Topics covered include: defining elder financial exploitation, common types of fraud and scams, a snapshot of data about scams, prevention and reporting resources, including financial caregiving and Trusted Contacts. Key Takeaways Learn the basics of elder financial exploitation, fraud, and scams. Review red flags and prevention resources for members, their caregivers and loved ones. Discover resources to help credit union staff spot, prevent, and report financial exploitation.   Register NowRegistration is complimentary, but you must register to attend.One registration gives your entire team access to the live webinar and on-demand recording until June 28, 2023.Go to the Online Training Center to access the webinar after purchase » Who Should Attend NCCOS NCBSOs NCRMs Compliance, BSA and risk staff Education Credits NCCOs will receive 1.0 CEUs for participating in this webinar NCRMs will recieve 1.0 CEUs for participating in this webinar NCBSOs will receive 1.0 CEUs for participating in the webinar CPA credit information is below; recommended 1.0 CPE credits. CPA Certification Credit Information Reviewer: Josie Collins, Associate Director of Education, NAFCU Learning Objectives:  See key takeaways Program Level: Basic Prerequisites Needed: None Advance Preparation Needed: None Delivery Method: Group Internet-Based Recommended CPE Credits: 1.0 credits Recommended Field of Study: Regulatory Ethics – Technical About Our Webinars Our webinars are streamed live from NAFCU headquarters near Washington, DC. Your audio/video feed of the presenters includes presentation slides and downloadable handouts. You can easily submit your questions to the presenters at any time during the live broadcast, with no dialing over the phone! The audio and video stream directly through your computer. Web NAFCU digital@nafcu.org America/New_York public
Credits: NCCO, NCRM, NCBSO, CPE
Webinar
---
Get daily updates.
Subscribe to NAFCU today.