December 10, 2019
Berger, Harper meet on exam issues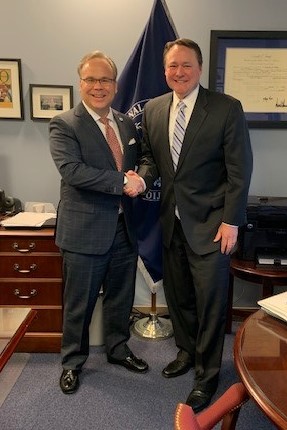 NAFCU President and CEO Dan Berger met yesterday with NCUA Board Member Todd Harper to discuss various examination issues, including Harper's proposal to add a consumer compliance examination program for large, complex credit unions.
During Monday's meeting, Berger shared some of NAFCU's concerns about the consumer compliance exam program adding regulatory burdens. Berger reiterated support for the NCUA's exam modernization efforts and said improving and streamlining existing exam processes would enhance consumer protections.
NAFCU Director of Regulatory Affairs Ann Kossachev and NCUA staff members also attended the meeting.
Harper requested comment on including the consumer compliance program in the NCUA's 2020-2021 budget, which is set to be finalized during Thursday's board meeting.
NAFCU Chief Economist and Vice President of Research Curt Long provided testimony on behalf of the association at the NCUA's budget hearing last month, offering recommendations to help the agency "manage its funds in a prudent and transparent way." Among them were conducting cost-benefit analysis for all rules and programs, providing additional information on exam modernization efforts, and more.
NAFCU works closely with the NCUA to improve examinations as credit unions continue to share concerns about exam consistency. Members of NAFCU's Board of Directors met with NCUA Board Chairman Rodney Hood in November to discuss various issues facing the industry, including exam modernization and cybersecurity.
Related Resources
---
Get daily updates.
Subscribe to NAFCU today.