May 08, 2018
Berger urges Senate, House to carry reg relief over finish line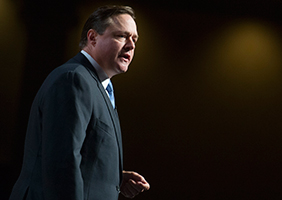 NAFCU President and CEO Dan Berger outlined a number of top legislative items still pending before Congress and asked leaders in the House and Senate in a letter Monday to work with the association to address these issues and bring the credit union industry much-needed regulatory relief.
Regarding regulatory relief, Berger noted how both the House and Senate have acted on comprehensive relief measures supported by NAFCU (The House-passed Financial CHOICE Act (H.R. 10) and the Senate-passed Economic Growth, Regulatory Relief, and Consumer Protection Act (S. 2155)).  He also noted the difficulties in getting bipartisan and bicameral agreement on legislation and noted that the association is pleased to see reports that the House may act on S. 2155 soon.  
"NAFCU is extremely supportive of S. 2155, but also has been supportive of bipartisan measures passed by the House since the start of this Congress," Berger wrote to Senate Majority Leader Mitch McConnell, R-Ky., Senate Minority Leader Chuck Schumer, D-N.Y., House Speaker Paul Ryan, R-Wis., and House Minority Leader Nancy Pelosi, D-Calif. "NAFCU supports a regulatory environment that allows credit unions to thrive." He urged the Senate to consider additional relief for credit unions as soon as possible.
NAFCU is on Capitol Hill this week pushing for credit union regulatory relief on several fronts as the House prepares in the coming weeks to consider the NAFCU-backed S. 2155. NAFCU has been working to advance S. 2155 since it was introduced by Senate Banking Committee Chairman Mike Crapo, R-Idaho, and several Democratic members of the committee in November. The association also has an active grassroots campaign urging credit unions to contact their lawmakers in support of this regulatory relief effort.
In his letter Monday, Berger also urged congressional leaders to act on:
Capital/risk-based capital (RBC) reform: NAFCU is a strong supporter of the Common Sense Capital Relief Act (H.R. 5288), which would allow the NCUA to revisit and reconsider its approach to RBC by delaying the rule's effective date for two years to Jan. 1, 2021.  
Data and cybersecurity: Since the Target data breach in 2013, NAFCU has been advocating for reforms that would create a safer environment and hold retailers accountable for data and cybersecurity breaches that occur on their end, all while not creating burdensome new requirements on financial institutions. Berger asked that NAFCU-backed draft legislation put forth by House Financial Services Subcommittee Chairman Blaine Luetkemeyer, R-Mo., and Rep. Carolyn Maloney, D-N.Y., be advanced later this year.
Field of membership (FOM): NAFCU wants to see a strengthened federal charter so credit unions' state and federal charters are able to keep pace with each other, Berger wrote. He added the association's support for the Financial Services for the Underserved Act (H.R. 4665), which NAFCU got introduced late last year, and would  allow all credit unions to add underserved areas to their FOMs.
Ending lawsuit abuse: "Credit unions are too often targets of demand letters that seek monetary damages for questionable patents or website 'violations' of the Americans with Disabilities Act (ADA)," Berger explained. He added that Congress must step in and seek to curb these abusive practices and urged the Senate to take action on the House-passed, NAFCU-backed ADA Education and Reform Act of 2017 (H.R. 620).
Preserving the credit union tax exemption: Thanking Congress and the administration for preserving the credit union tax exemption in the recently passed tax reform law, Berger urged the congressional leaders to continue to protect the exemption as they look to address more tax issues later this year.
Read the full letter here.
Related Resources
---
Get daily updates.
Subscribe to NAFCU today.