September 27, 2018
Bureau issues report, requests input on data collection efforts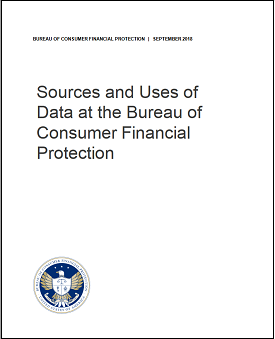 The Bureau of Consumer Financial Protection this week issued a report and request for information (RFI) on its data collection efforts and how that data is used. The RFI allows the public to comment on the report's findings and the bureau's practices. NAFCU will be submitting comments.
This report, the bureau said, is intended to provide transparency into how the bureau collects and uses data.
In the past, NAFCU has commented on risks associated with the bureau's previous data handling policies, especially in relation to data collection efforts under the Home Mortgage Disclosure Act (HMDA) and the consumer complaint database. Deficiencies and recommendations for improvement, raised by the Government Accountability Office (GAO) and by the bureau's Office of Inspector General (OIG), are addressed in the report and characterized as resolved or in the process of being resolved.
The report specifically describes the data the bureau collects, where it is from, and how it is collected and reused. It publishes the full text of the bureau's internal data governance policies and charters as well.
The bureau's RFI on this matter will be open for a 90-day comment period once published in the Federal Register.
Get daily updates.
Subscribe to NAFCU today.