September 15, 2022
Caucus: FHFA Director Thompson sits with NAFCU's Moore to talk regulatory updates, tech innovation, climate change, more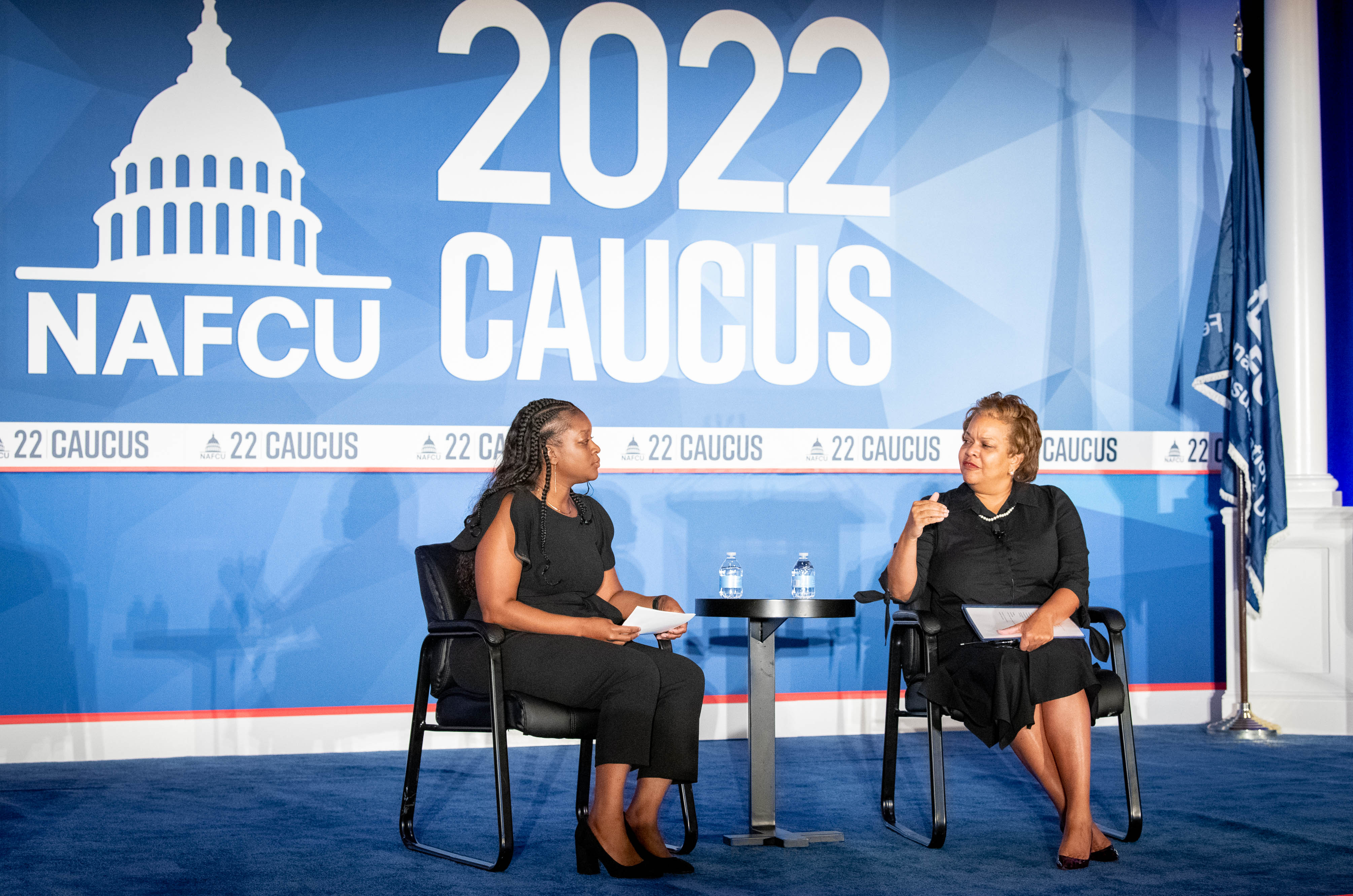 Federal Housing Finance Agency (FHFA) Director Sandra Thompson sat down with NAFCU Senior Regulatory Affairs Counsel Aminah Moore Wednesday at NAFCU's 2022 Congressional Caucus. During their discussion, Thompson shared the latest regulatory updates from the FHFA, seller/servicer eligibility requirements, climate change, and more.
Moore began the discussion with a question on the agency's future goals regarding their recent announcement to establish a federal advisory committee focused on affordable, equitable, and sustainable housing. Director Thompson responded that they are excited for the development of the committee, as it will help the agency hear different perspectives and ensure a balanced approach in regulation of the government sponsored enterprises (GSEs). 
"You make the best policy decisions when you have a larger selection of stakeholders," Director Thompson stated.  
On the topic of the FHFA's recent establishment of the Office of Financial Technology as a source of information to help assess risks of emerging fintechs, Thompson stressed the importance of ensuring efficiency while also understanding the risks that technology can impose on borrowers. She mentioned that they are looking for ways to effectively transform the mortgage process to move with the future of tech innovation.  
Of note, the FHFA recently issued a request for comment (RFC) seeking public input on the role of technology in housing finance to gain a broader understanding of the level of innovation throughout the mortgage lifecycle. Comments to the RFC are due to the agency on October 16, 2022. NAFCU will continue to work with the FHFA and other agencies to ensure appropriate oversight of fintech firms.  
Moore also asked Director Thompson what her thoughts were on the FHFA's future ability to confront the impact of climate change on the housing finance system.
"The GSEs have been working diligently to put programs in place that address climate change," Thompson responded, emphasizing that identifying areas that face frequent effects of climate change will guide the agency as they put plans in place to help these communities who are at risk.
NAFCU's Congressional Caucus concluded yesterday. To catch up on previous sessions, take a look at Twitter with #NAFCUCaucus for previous live updates from the event.  
Related Resources
Consumer Lending BSA Operations
Blog Post
Management, Relationships
preferred partner
LendKey
Blog Post
---
Get daily updates.
Subscribe to NAFCU today.