March 02, 2023
CFPB announces appointment of NAFCU members to CUAC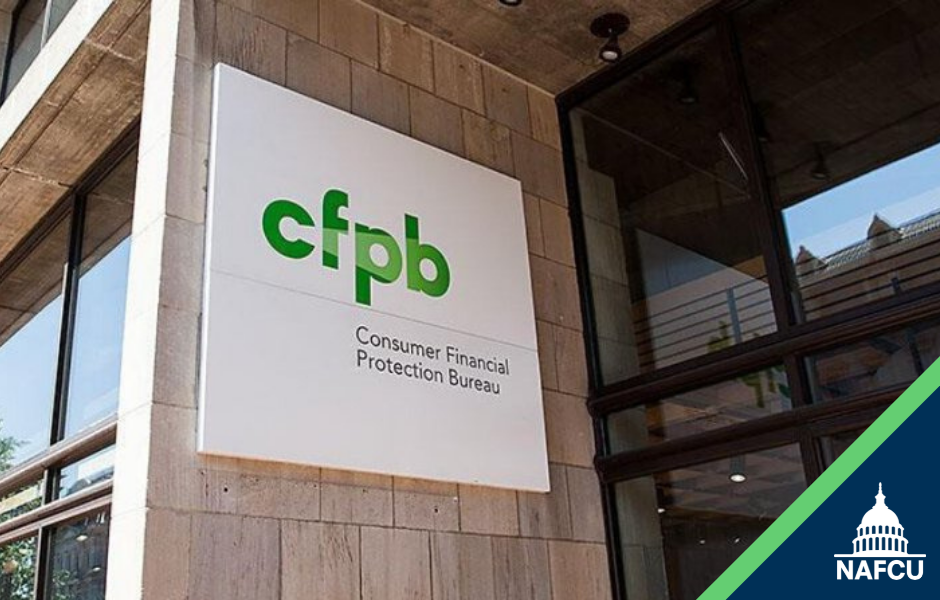 The CFPB announced yesterday the appointment of new members to multiple advisory committees, including four new members to the Credit Union Advisory Council (CUAC). CUAC and the CFPB's other advisory councils meet throughout the year to provide feedback to the bureau on consumer financial issues and industry trends; members serve a staggered, two-year term.  
Here are the appointed representatives who will serve on the CUAC, including seven NAFCU-member credit unions:  
Chad LaFlash, AVP Research and Product Strategy, University of Wisconsin Credit Union (Madison, WI);
Floyd Rummel III, CEO, Northern Hills Federal Credit Union (Sturgis, SD);
Suzanne Weinstein, President and CEO, Orlando Credit Union (Orlando, FL);
Shawn Wolbert, President and Chief Executive Officer, GHS Federal Credit Union (Binghamton, NY);
Jeff Ivey, President and CEO, River City Federal Credit Union (San Antonio, TX); 
Michael Levy, General Counsel, Travis Credit Union (Vacaville, CA);
Deborah Wreden, EVP, Product & Delivery Strategy, Virginia Credit Union (Richmond, VA); and
Michael Daugherty, President, Community Plus Federal Credit Union (Rantoul, IL).
Read more. NAFCU will continue to work closely with the CFPB, CUAC, and other stakeholders to share credit unions feedback and provide insights into the regulatory and legislative landscape.  
Related Resources
Add to Calendar 2023-11-30 09:00:00 2023-11-30 09:00:00 Safeguarding Credit Unions with Threat Intelligence Listen On: Key Takeaways: [1:01] What is threat intelligence, and why is it important to CUs? [2:14] What are threat intelligence feeds, and what role do they play in strengthening CUs? [4:41] Leveraging threat feeds and integrating intelligence into tools is crucial. [6:35] Learn what threat CUs should be most concerned about. [7:39] Phishing is ever-evolving, and user awareness is critical. [10:43] Learn how Defense Storm uses feeds to protect its customers. [13:28] Threat intelligence is not as complicated as some think; initiation can be easy through Slack, discussions, and a reporting culture. Web NAFCU digital@nafcu.org America/New_York public
preferred partner
DefenseStorm
Podcast
Consumer Lending
Blog Post
Add to Calendar 2023-11-28 09:00:00 2023-11-28 09:00:00 Growing Creatively & Innovatively in 2024 Listen On: Key Takeaways: [0:58] What can credit unions do to best prepare themselves for 2024? [2:12] Although he sees a glimmer of hope, Jack points out that the liquidity crisis and slow prepayment speeds hamper rapid recovery. [5:22] We discuss how credit unions seek low loan growth through member-centric strategies such as second mortgages and home improvement lending. [7:34] Credit unions are leveraging advancing technology for member-focused engagement. [9:31] How will technology continue to evolve and affect credit unions? [11:43] What role does AI play in innovative growth? [14:14] Credit unions adopt technology for efficiency, enabling staff to focus on personalized member interactions, especially with younger generations. [17:14] Closing thoughts, emphasizing competition against banks and fintech for younger generations. Web NAFCU digital@nafcu.org America/New_York public
Strategy & Growth, Consumer Lending
preferred partner
Allied Solutions
Podcast
---
Get daily updates.
Subscribe to NAFCU today.