October 27, 2022
CFPB issues guidance on 'illegal junk fees'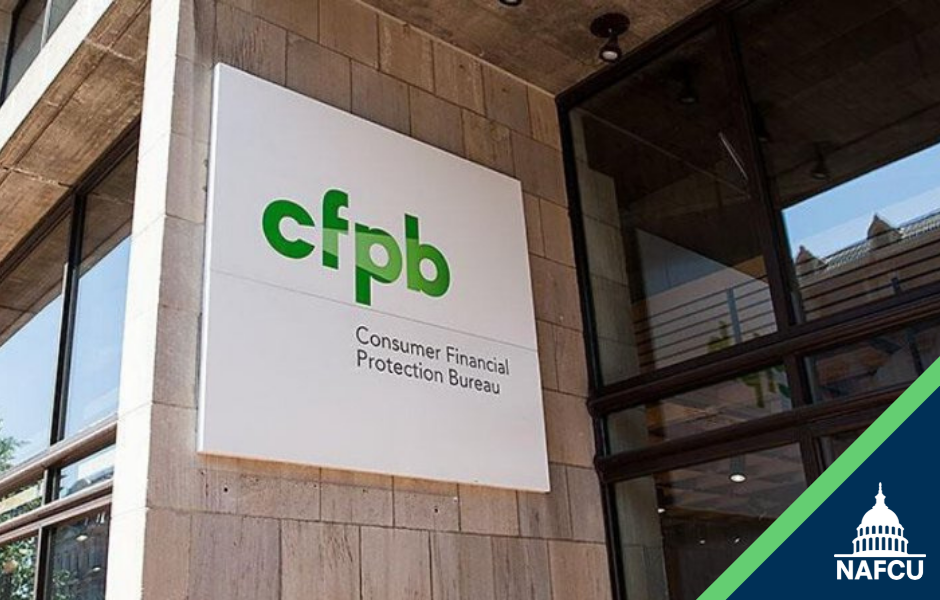 The CFPB Wednesday released guidance regarding 'illegal junk fees' on deposit accounts, specifically surprise overdraft fees and the practice of indiscriminately charging depositor fees to every person who deposits a check that bounces. In addition, CFPB Director Rohit Chopra joined President Joe Biden during a speech to highlight the Administration's crackdown on these fees.
"Credit unions always put their members first, not their bottom lines, and follow the law by clearly disclosing their fees for products and services to consumers," said NAFCU President and CEO Dan Berger in response to the new guidance. "The CFPB should not rely on scare tactics and legally non-binding guidance to delineate the bounds of its regulatory and supervisory authority.
"NAFCU supports greater transparency and accountability for the CFPB, especially in following the congressionally mandated notice-and-comment rulemaking process," concluded Berger.
Of note, the surprise overdraft fees include fees charged when consumers had enough money in their account to cover a debit charge at the time the bank authorizes it – commonly known as an 'authorized positive, settled negative' circumstance.
The CFPB stated that both of the types of fees outlined in the guidance likely violate the Consumer Financial Protection Act, specifically the prohibition of unfair practices, due to consumers being unable to reasonably avoid them.
Regarding authorized positive, settled negative, the CFPB notes their recent action against Regions Bank where the bureau ordered Regions Bank, a repeat offender, to pay $191 million for illegal surprise overdraft fees. 
Notably, the New York State Department of Financial Services also previously released an Industry Letter on overdraft and non-sufficient funds (NSF) fees that states this type of overdraft fee is unfair, which highlights that credit unions must be aware of their state guidance and state supervisory authority's ability to enforce the law. The CFPB highlighted this fact in May of this year.
The CFPB in January issued a request for information (RFI) on fees on consumer financial products and services, namely what the bureau is calling 'junk fees.' NAFCU, along with other credit union and banking trade groups, responded to the RFI by stating that the CFPB's initiative "paints a distorted and misleading picture of our country's highly competitive financial services marketplace." NAFCU provided feedback in response to the RFI through both a letter and joint trades letter.
The bureau earlier this month also released an issue brief on how overdraft fees impact economically insecure older adults.
The association supports a fair, transparent, and competitive market for consumer financial services, but has previously cautioned that efforts to eliminate or limit overdraft protection programs would likely result in significant negative impacts on borrowers and credit unions. 
NAFCU will continue to monitor the CFPB's continued movement on fees and will update credit unions via NAFCU Today.
Related Resources
Add to Calendar 2022-12-01 14:00:00 2022-12-01 14:00:00 More Benefit, Less Burden from Your Risk Assessment Process About the Webinar Let's talk Risk Assessment! Did you just cringe at those two words? As industry professionals, we get it. For many credit unions, risk assessment seems like a compulsory, tedious task. As you prepare for 2023, consider how you can change your mindset to appreciate the value in the risk assessment process. We'll convince you that risk assessment is actually a beneficial exercise that can support and improve your credit union's cyber readiness and compliance efforts. Are you ready to reevaluate your approach? Join us for our webinar, "More Benefit, Less Burden from Your Risk Assessment Process," on Thursday, December 1, at 2:00 pm EST to learn more about the benefits of a proactive approach to risk assessment, including: Better conveying your program's successes to internal and external audiences  Strengthening decision-making and prioritization of initiatives  Proactively pivoting to focus on new high-risk areas  Consistent scoring and application of control profiles enterprise-wide   Seamless portrayal of how internal controls support mitigating controls  Robust audit trail proving how risk and internal control scores have evolved  Improving how examiners view your institution's risk culture  Watch the Webinar On-Demand Web NAFCU digital@nafcu.org America/New_York public
preferred partner
DefenseStorm
Webinar
Add to Calendar 2022-12-01 14:00:00 2022-12-01 14:00:00 Dealing with Difficult Members: 5 Foolproof Techniques Dealing with difficult people is an unfortunate byproduct of the financial services industry. From the teller line to the call center, on up to collections--working with borrowers who are confused, angry and looking for somebody to blame--is a daily occurrence. Frontline staff need to develop a thick skin and a solutions-oriented tool kit to work through these challenging interactions.  We need to remember that the members are not always expressing frustration with the institution. Their ire is most often tied to external events or other triggers. But at the end of the day, we must find a way to meet their needs with as little emotional trauma as possible. Fortunately, in this Dealing with Difficult Members: 5 Foolproof Techniques webinar, you'll learn that there are methods you can utilize to focus on a positive outcome and work through most situations. Anger is a natural emotion and one which is almost universally experienced. Rather than return anger for anger or lose a good customer, why not try to build a better interaction? Key Takeaways Discover how to develop listening strategies Review common anger triggers Learn de-escalation techniques   Purchase Now$295 Members | $395 Nonmembers(Additional $50 for USB)One registration gives your entire team access to the live webinar and on-demand recording until December 1, 2023.Go to the Online Training Center to access the webinar after purchase »   Who Should Attend Presidents/CEOs COOs Branch managers Operations staff titles HR staff Education Credits This webinar doesn't qualify for any continuing education credits recognized by NAFCU or NASBA. About Our Webinars Our webinars are streamed live from NAFCU headquarters near Washington, DC. Your audio/video feed of the presenters includes presentation slides and downloadable handouts. You can easily submit your questions to the presenters at any time during the live broadcast, with no dialing over the phone! The audio and video stream directly through your computer. Web NAFCU digital@nafcu.org America/New_York public
Webinar
---
Get daily updates.
Subscribe to NAFCU today.