June 13, 2023
CFPB outlines perspective on open banking, 1033 rulemaking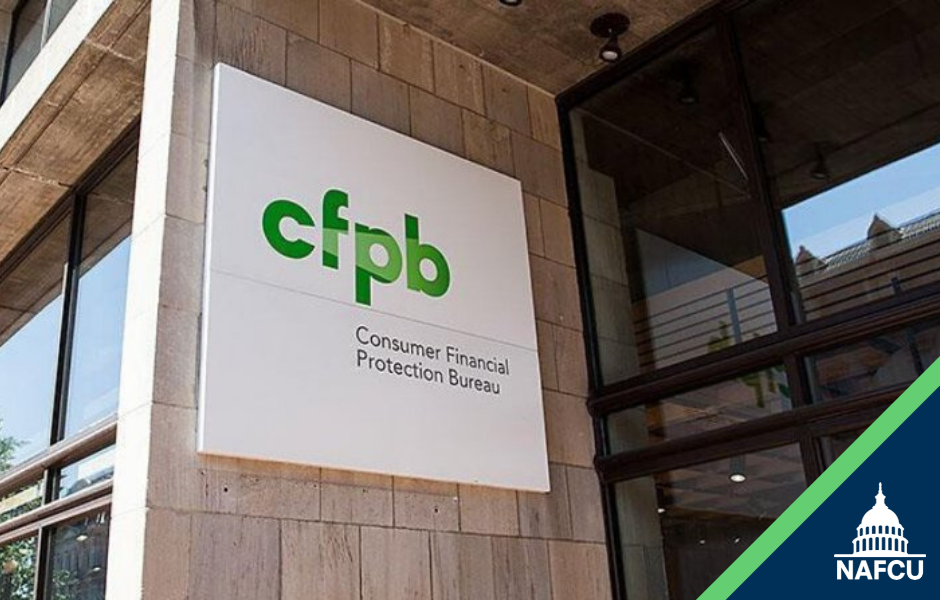 CFPB Director Rohit Chopra published a blog Monday outlining the bureau's efforts "to accelerate the shift to open banking through a new personal data rights rule intended to break down…obstacles, jumpstart competition, and protect financial privacy." Section 1033 of the Dodd-Frank Act provides for consumer rights to access financial records; NAFCU has urged the bureau to ensure the rulemaking is not overly burdensome on credit unions.
In the blog post, Chopra highlighted the bureau's desire to establish "a more competitive market" and new technologies to do so "have not yet reached their full potential." The section 1033 rulemaking – for which the bureau outlined proposals in October 2022 and plans to release a formal proposal in the coming months, with the intention of finalizing in 2024 – will ensure open banking standards "appropriately allow consumers to exercise their personal financial data rights."
In response to the outline of section 1033 proposals, NAFCU argued many under consideration presented significant challenges for credit unions, both technical and competitive in nature, that could lead to "enormous compliance costs and ultimately distort the financial sector's competitive landscape."
Chopra also noted that, in an attempt for the bureau to not micromanage the open banking process, "many of the details in open banking will be handled through standard-setting outside of the agency."
Read Chopra's blog post. NAFCU will continue to work with the bureau on its efforts to balance consumer protections while ensuring a reasonable regulatory environment for credit unions.
Related Resources
Add to Calendar 2023-11-30 09:00:00 2023-11-30 09:00:00 Safeguarding Credit Unions with Threat Intelligence Listen On: Key Takeaways: [1:01] What is threat intelligence, and why is it important to CUs? [2:14] What are threat intelligence feeds, and what role do they play in strengthening CUs? [4:41] Leveraging threat feeds and integrating intelligence into tools is crucial. [6:35] Learn what threat CUs should be most concerned about. [7:39] Phishing is ever-evolving, and user awareness is critical. [10:43] Learn how Defense Storm uses feeds to protect its customers. [13:28] Threat intelligence is not as complicated as some think; initiation can be easy through Slack, discussions, and a reporting culture. Web NAFCU digital@nafcu.org America/New_York public
preferred partner
DefenseStorm
Podcast
Consumer Lending
Blog Post
Add to Calendar 2023-11-28 09:00:00 2023-11-28 09:00:00 Growing Creatively & Innovatively in 2024 Listen On: Key Takeaways: [0:58] What can credit unions do to best prepare themselves for 2024? [2:12] Although he sees a glimmer of hope, Jack points out that the liquidity crisis and slow prepayment speeds hamper rapid recovery. [5:22] We discuss how credit unions seek low loan growth through member-centric strategies such as second mortgages and home improvement lending. [7:34] Credit unions are leveraging advancing technology for member-focused engagement. [9:31] How will technology continue to evolve and affect credit unions? [11:43] What role does AI play in innovative growth? [14:14] Credit unions adopt technology for efficiency, enabling staff to focus on personalized member interactions, especially with younger generations. [17:14] Closing thoughts, emphasizing competition against banks and fintech for younger generations. Web NAFCU digital@nafcu.org America/New_York public
Strategy & Growth, Consumer Lending
preferred partner
Allied Solutions
Podcast
---
Get daily updates.
Subscribe to NAFCU today.