February 16, 2017
CFPB seeks feedback on 'alternative data' for credit scoring
The CFPB is seeking feedback on ways to expand access to credit for consumers who lack the necessary credit history to obtain a credit score, such as cell phone bills and rent payments. Comments are due by May 19.

During a field hearing Thursday in Charleston, W.Va., the bureau estimated that 26 million Americans are credit-invisible, meaning they have no credit histories with a nationwide consumer reporting agency. Another 19 million consumers have credit histories that are insufficient to produce credit scores under most scoring models.

This is a problem, the CFPB said, that disproportionately impacts consumers who are Black or Hispanic, live in low-income neighborhoods, those who are recent immigrants, young people just getting started, or people who are recently widowed or divorced who don't have enough credit history of their own.

The CFPB is requesting comment on the use of unconventional sources of information, called "alternative data," as a way for consumers to gain access to credit. The bureau is also exploring risks posed by alternative data that is inconsistent, incomplete, incorrect, overgeneralized or biased, along with any privacy and security concerns.

"By filling in more details of a consumer's financial life, this information may paint a broader and more accurate picture of their creditworthiness," Cordray said during yesterday's field hearing. "Adding this kind of alternative data into the mix thus holds out the promise of opening up credit for millions of additional consumers."

NAFCU Senior Regulatory Affairs Counsel Michael Emancipator said many credit unions, especially those designated as low-income and community development financial institutions, already use alternative data to help their members obtain credit.
Related Resources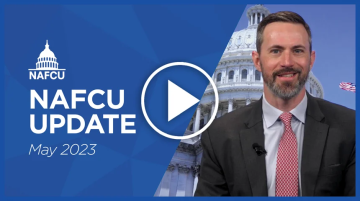 Video
Add to Calendar 2023-06-01 09:00:00 2023-06-01 09:00:00 Managing Risk with Derivatives In today's interest rate environment, derivatives are an essential tool that plays a key role in mitigating rate risk in credit unions' loan portfolios and in pricing member share accounts. By providing access to fairly priced products and services, credit unions support their local communities and play an important role in the nation's financial health. Get the Report: Location NAFCU digital@nafcu.org America/New_York public
preferred partner
Piper Sandler
Whitepaper
---
Get daily updates.
Subscribe to NAFCU today.