October 13, 2020
Crapo calls on regulators to support FIs facing higher balance sheets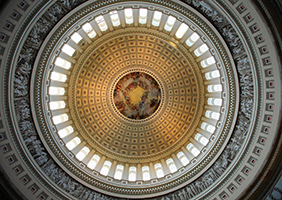 Senate Banking Committee Chairman Mike Crapo, R-Idaho, last week sent a letter to NCUA Chairman Rodney Hood and other financial institution regulators calling on them ensure credit unions and banks have the flexibility to meet members' needs amid the coronavirus pandemic.
Crapo highlighted that financial institutions stepped up to support struggling small businesses through the paycheck protection program (PPP), which caused the institutions to "inadvertently experienced significant balance sheet growth." While this growth is expected to decline as PPP forgiveness begins, "many banks and credit unions may now unexpectedly face surpassing certain asset-based regulatory thresholds."
"Crossing these thresholds would entail new, expensive and burdensome regulatory requirements to which they would not have otherwise been subject," Crapo wrote. "Banks and credit unions must not be deterred from continuing to play a key role in the recovery and must maintain ample flexibility to serve customers and work with those affected by the pandemic.
"As each of your agencies continue taking actions to provide liquidity to the marketplace and support lending to households and businesses, I urge you to use your discretion to minimize the regulatory impact on banks and credit unions resulting from their participation in the PPP," he concluded.
Of note, the flexibility provided to the NCUA in the CARES Act to enhance credit unions' use of the Central Liquidity Facility (CLF) has supported access to liquidity. NAFCU continues to call on Congress to extend this relief measure and is supporting a sign-on letter being circulated by Rep. Danny Davis, D-Ill., urging House leadership to include extensions of the CLF and troubled debt restructuring (TDR) provisions in the CARES Act until the end of 2021 in the next relief package.
However, at the NCUA Board's September meeting, a quarterly report on the National Credit Union Share Insurance Fund (NCUSIF) revealed that credit unions have seen share growth of almost 13 percent through the first six months of 2020, causing the NCUSIF's equity ratio to fall to 1.22 percent. If the equity ratio falls below 1.2 percent, the NCUA is statutorily obligated to establish a restoration plan and could potentially assess a premium charge to restore the NCUSIF.
NAFCU came out strong against the possibility of the NCUA charging credit unions a premium as they work to support members impacted by the pandemic and recommended the NCUA pursue other measures – such as additional investment opportunities – to manage the large influx of deposits. NAFCU President and CEO Dan Berger also discussed these issues with NCUA Board Member Todd Harper last week.
NAFCU will continue advocating for the NCUA to enact relief measures that allow credit unions to focus on meeting their members' needs.
Related Resources
---
Get daily updates.
Subscribe to NAFCU today.