September 27, 2023
CUNA, NAFCU provide updates on merger website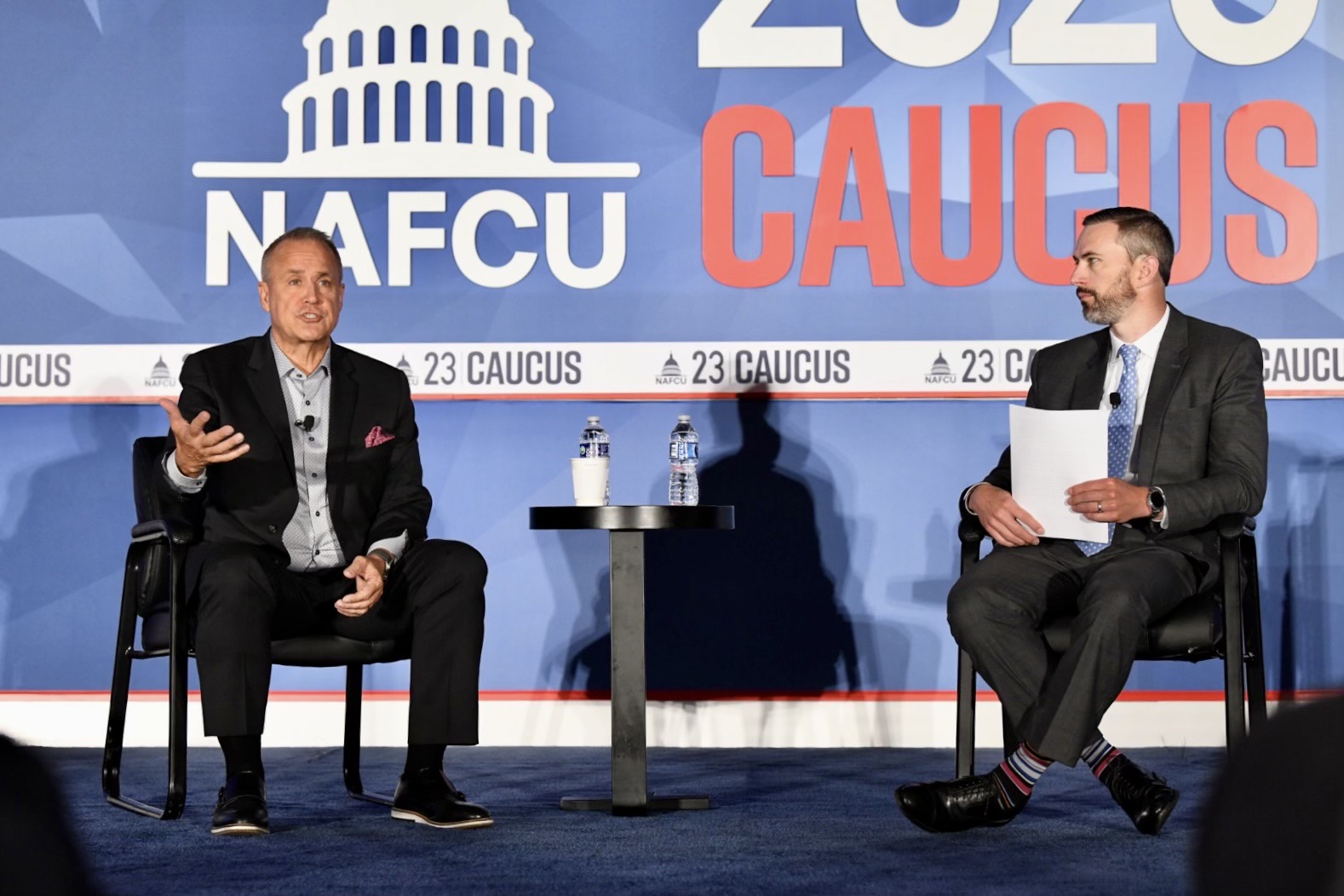 CUNA and NAFCU's websites are updated with recent developments related to the proposed transformation to America's Credit Unions. Now available are the 2022 financial statements for both organizations, a video of Jim Nussle's conversation at NAFCU's 2023 Congressional Caucus where he laid out his vision for the new organization, and refreshed FAQs.
Access the new resources here.
Of note, Nussle – who will lead America's Credit Unions – today will kick off a series of virtual forums for member credit union CEOs. NAFCU-only members are encouraged to participate in today's forum, set to begin at 2 p.m. Eastern. Nussle will host one Oct. 4 for CUNA-only member CEOs, and one Oct. 11 for those who are members of both organizations.
Registration details were sent to CEOs' emails; reach out to NAFCU Member Services via email or at 800.344.5580 with questions.
As members have requested more visibility into the financial strength of both organizations, the associations have shared their 2022 financial statements in an effort to promote transparency and accountability – which are priorities throughout the merger process. The statements demonstrate a strong foundation should the merger to America's Credit Unions be approved by members.
In addition, Nussle joined NAFCU Senior Vice President of Government Affairs Greg Mesack at Caucus in early September to discuss advocacy priorities and pillars of America's Credit Unions, as well as answer questions from attendees. Watch the conversation now.
The refreshed FAQs provide insights into general merger-related questions, the voting process and timeline, membership participation and dues, board governance and structure, events, and more.
The member vote on the merger is open until 5 p.m. Eastern Nov. 1.
Related Resources
Add to Calendar 2023-11-30 09:00:00 2023-11-30 09:00:00 Safeguarding Credit Unions with Threat Intelligence Listen On: Key Takeaways: [1:01] What is threat intelligence, and why is it important to CUs? [2:14] What are threat intelligence feeds, and what role do they play in strengthening CUs? [4:41] Leveraging threat feeds and integrating intelligence into tools is crucial. [6:35] Learn what threat CUs should be most concerned about. [7:39] Phishing is ever-evolving, and user awareness is critical. [10:43] Learn how Defense Storm uses feeds to protect its customers. [13:28] Threat intelligence is not as complicated as some think; initiation can be easy through Slack, discussions, and a reporting culture. Web NAFCU digital@nafcu.org America/New_York public
preferred partner
DefenseStorm
Podcast
Consumer Lending
Blog Post
Add to Calendar 2023-11-28 09:00:00 2023-11-28 09:00:00 Growing Creatively & Innovatively in 2024 Listen On: Key Takeaways: [0:58] What can credit unions do to best prepare themselves for 2024? [2:12] Although he sees a glimmer of hope, Jack points out that the liquidity crisis and slow prepayment speeds hamper rapid recovery. [5:22] We discuss how credit unions seek low loan growth through member-centric strategies such as second mortgages and home improvement lending. [7:34] Credit unions are leveraging advancing technology for member-focused engagement. [9:31] How will technology continue to evolve and affect credit unions? [11:43] What role does AI play in innovative growth? [14:14] Credit unions adopt technology for efficiency, enabling staff to focus on personalized member interactions, especially with younger generations. [17:14] Closing thoughts, emphasizing competition against banks and fintech for younger generations. Web NAFCU digital@nafcu.org America/New_York public
Strategy & Growth, Consumer Lending
preferred partner
Allied Solutions
Podcast
---
Get daily updates.
Subscribe to NAFCU today.