January 23, 2019
ECU Monitor highlights 2019 reg concerns, outlook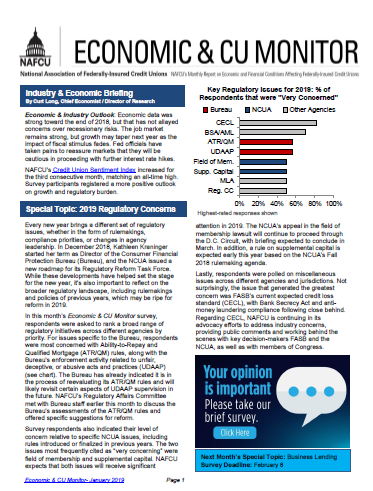 Looking to the 2019 regulatory environment, credit unions are most concerned about the Bureau of Consumer Financial Protection's ability-to-repay (ATR) and qualified mortgage (QM) rules as well as the bureau's enforcement activity related to unfair, deceptive, or abusive acts and practices (UDAAP), according to NAFCU's latest Economic & CU Monitor report.
In addition, the Monitor revealed that survey respondents are "very concerned" about the NCUA's field of membership and supplemental capital rules. Also noted in the Monitor were credit unions' concerns regarding the Financial Accounting Standards Board's (FASB) current expected credit loss (CECL) standard and Bank Secrecy Act (BSA)/anti-money laundering (AML) compliance. NAFCU will continue to work with regulators and lawmakers on these industry concerns and will update credit unions on further developments.
The new edition of the Monitor – now available for download – also showed the Credit Union Sentiment Index (CUSI) rose for the third consecutive month in January, matching the all-time high. The CUSI an index based on NAFCU member responses to eight questions on growth and earnings outlook, lending conditions and regulatory burden.
The sharpest increase was in the lending score, which recovered from a recent downward trend to match its average over the past 12 months. The growth score also rose this month with 94 percent of respondents rated growth conditions as "somewhat" or "very good."
NAFCU relies on survey responses to provide its members a glimpse of trends affecting the credit union industry as a whole. The association also uses survey responses to inform its advocacy efforts on Capitol Hill and with regulatory agencies such as the NCUA, the bureau and the Federal Reserve.
The next survey is focused on business lending. Participants can fill out the survey online; responses are due Feb. 8.
Related Resources
---
Get daily updates.
Subscribe to NAFCU today.