January 27, 2021
ECU Monitor highlights CU data portability concerns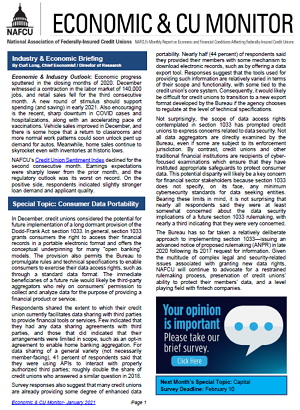 As economic progress sputtered in the closing months of 2020, the January edition of NAFCU's Economic & CU Monitor report – now available for download – details how current economic conditions could affect the credit union industry. Through the report, NAFCU's research team also shared credit unions' opinions on consumer data portability in relation to the CFPB's recent advance notice of proposed rulemaking (ANPR) gathering input on how it should implement section 1033 of the Dodd-Frank Act.
Survey respondents indicated that many credit unions are already providing some degree of enhanced data portability, with nearly half stating they have provided their members with some mechanism to download electronic records. Few respondents shared that their credit union had any data sharing agreements with third parties, and those who had indicated that their arrangements were limited in scope.
In addition, credit unions expressed concerns related to data security due to the scope of data access rights considered in section 1033. NAFCU has previously recommended that the CFPB explore questions around permissioned data access by focusing on the security of consumers' information and should not create new data-collection burdens and costs for credit unions.
Also included in the latest Economic & CU Monitor are results from the Credit Union Sentiment Index (CUSI), an index based on NAFCU member responses to eight questions on growth and earnings outlook, lending conditions and regulatory burden.
The CUSI continued to decline in December following a sharp drop in the previous month. Of note, the index is now sitting on the threshold of dropping into the "pessimistic" range.
Of note, among the four index components the biggest drop was in earnings, followed by growth. Credit unions' outlook on regulation over the next 12 months fell to its lowest reading in the history of the survey, while lending was the only index component to improve.
NAFCU relies on survey responses to provide its members a glimpse of trends affecting the credit union industry as a whole and inform its advocacy efforts. Next month's survey is focused on capital; responses are due Feb. 10.
For more on NAFCU's award-winning research team, check out the association's Macro Data Flash reports for insights into interest rates, auto sales, home market.
Related Resources
---
Get daily updates.
Subscribe to NAFCU today.