May 16, 2018
Fed board nominees support tailoring regs for FIs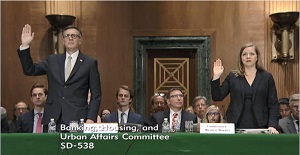 Testifying before the Senate Banking Committee Tuesday, Federal Reserve Board of Governor nominees Richard Clarida and Michelle Bowman offered their support of reducing the regulatory burden facing community-based financial institutions by better tailoring regulations. NAFCU is actively engaged on Capitol Hill, advocating for numerous legislative items that would provide much-needed regulatory relief to the financial services industry.
Clarida, a Columbia University economist, has been nominated to serve as vice chairman of the board. Bowman, bank commissioner for the state of Kansas, has been nominated to fill the board's seat designated for a community banker or regulator of community banks.
During her testimony, Bowman discussed her time working for her family's 135-year-old community bank in Kansas and noted that the "regulatory environment created in aftermath of crisis has disadvantaged community banks." She said if confirmed to serve on the board, she will work to ensure "rules are appropriately tailored to size, complexity and risk of institution."
Responding to a question from Senate Banking Committee Chairman Mike Crapo, R-Idaho, about the importance of improving financial regulations while still ensuring safety and soundness of the financial system, Clarida said that if confirmed, he will "seek out efficiencies and tailoring to specifics as much as possible, but not putting system at risk in unnecessary way."
Sen. Thom Tillis, R-N.C., used the NAFCU-backed Economic, Growth, Regulatory Relief and Consumer Protection Act (S. 2155), which is expected to be voted on in the House in the coming weeks, as a way to provide regulatory relief to community banks. Bowman said such relief is important.
"At the state level, I oversee banks that range in size from $7 million in assets with three employees to $3.2 billion in assets. All of those qualify by the federal standard as community banks," Bowman said. "It's important to be able to understand the burden on a staff of three to implement the same regulations that apply to much larger institutions."
Following questioning from Sen. Jon Tester, D-Mont., on government-sponsored enterprises (GSEs) Fannie Mae and Freddie Mac, both Clarida and Bowman also indicated their support of government-backed, 30-year fixed interest rate mortgage loans. "Without some kind of guarantee, banks can't withstand that 30-year interest rate risk," Bowman explained. Clarida also said the GSEs remaining in conservatorship "is not desirable." NAFCU's core principles on housing finance reform are available here.
Throughout the hearing, Clarida and Bowman answered questions related to maintaining the Federal Reserve's independence, cybersecurity, the importance of capital and liquidity in lending to consumers and stock market volatility influencing rate decisions. Clarida also indicated he supports continuing the Fed's current effort to reduce its securities holdings by decreasing its reinvestment of the principal payments from its holdings of Treasury securities and agency mortgage-backed securities.
A committee vote to advance the nominations to the full Senate has yet to be set.
Related Resources
---
Get daily updates.
Subscribe to NAFCU today.