May 04, 2021
Fed survey: Banks ease lending standards as loan demand returns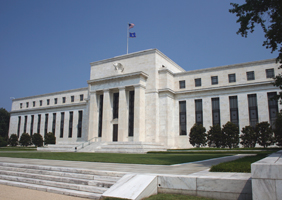 The Federal Reserve's first-quarter senior loan officer opinion survey (SLOOS) revealed that banks have eased lending standards in several areas following a year-long trend of tightening due to the coronavirus pandemic.
"Banks are beginning to ease up on underwriting standards, but have still not resumed their pre-COVID posture," said NAFCU Chief Economist and Vice President of Research Curt Long. "With demand returning, the presence of credit unions as a competing source of credit will be particularly important to the overall economy in 2021."
Here's a look at some key findings from the first-quarter survey:
Commercial and industrial (C&I) loans:
on balance, banks reported easing standards for C&I loans to firms of all sizes;

on net, banks reported weaker demand for C&I loans to large and middle-market firms;

banks tightened standards on commercial construction and land development loans but eased standards on multifamily loans;

commercial real estate (CRE) loans secured by nonfarm nonresidential properties remained basically unchanged; and

banks reported stronger demand for construction and land development and multifamily loans and weakened demand for nonfarm nonresidential loans.
Residential real estate (RRE):
banks eased lending standards for most mortgage loan categories and for revolving home equity lines of credit (HELOCs), with notable differences across bank sizes;

a moderate net share of large banks eased standards on government-sponsored enterprise (GSE)-eligible mortgages, which make up the majority of bank mortgage originations;

significant net shares of large banks eased standards on HELOCs and all other mortgage categories except government and subprime mortgages;

modest net shares of small banks eased standards on qualified mortgage (QM) jumbo mortgages, on QM non-jumbo, non-GSE-eligible mortgages and on HELOCs; and

small banks left standards on all other residential mortgage types except subprime mortgages basically unchanged.
Consumer lending
a significant share of banks eased standards for credit card loans, and moderate net shares of banks eased standards for auto loans and for other consumer loans;

consistent with easier lending standards, moderate net shares of banks reduced the minimum required credit score on credit card and other consumer loans, and a modest net share of banks did so on auto loans;

for auto loans, a moderate net share of banks narrowed the rate spreads charged on outstanding balances over their cost of funds, and modest net shares of banks increased the maximum maturity and reduced the minimum percent of outstanding balances required to be repaid each month; and

for consumer loans other than credit card and auto loans, a moderate net share of banks narrowed the rate spreads charged on outstanding balances over their cost of funds.
The latest edition of the survey also included two sets of special questions: one set inquiring about changes in banks' lending policies compared with pre-pandemic levels (since the end of 2019) by borrower risk rating, and one set about changes in CRE lending policies over the past year. 
This senior loan officer survey was based on responses from 75 domestic banks and 21 U.S. branches and agencies of foreign banks.
Access the full survey from the Fed. See NAFCU's recent economic analysis reports here.
Related Resources
NCUA , Examination & Enforcement
Blog Post
Add to Calendar 2021-09-16 14:00:00 2021-09-16 14:00:00 Home Improvement Lending: Tools for Helping Your Members About The Interview The pandemic has impacted almost every facet of the lending space, but home improvement loans in particular have seen a major uptick. We're talking with Paul Borghi, Vice President of Point-of-Sale Lending at LendKey, about the competition among lenders, important trends in the market, the prime borrowers you want to serve, and the best tools to be the go-to for your members. Watch the Webinar On-Demand Web NAFCU digital@nafcu.org America/New_York public
preferred partner
LendKey
Webinar
Strategy, Marketing, Growth & Retention, Customer Engagement, Consumer Lending
preferred partner
Upstart
Blog Post
---
Get daily updates.
Subscribe to NAFCU today.