February 05, 2019
Fed survey: Banks report weakened demand for loans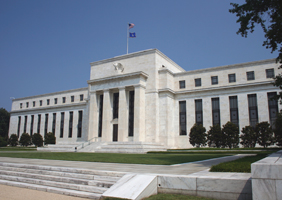 The Federal Reserve's fourth-quarter senior loan officer opinion survey (SLOOS) revealed that banks will continue to see deteriorating lending conditions as loan performance is expected to decline in 2019.
"The Fed's fourth-quarter SLOOS indicates that current and anticipated lending conditions among banks are deteriorating," said NAFCU Chief Economist and Vice President of Research Curt Long. "Loan demand is weakening across a broad range of loan types, and lending officers expect loan performance to decline this year even as standards tighten. It is notable that the survey was conducted during the government shutdown, when a number of other economic sentiment indices plummeted. But it is certainly another troubling sign on the horizon and warrants the patience that the FOMC has recently begun preaching."
During the fourth quarter, banks reported tightened standards for commercial real estate (CRE) loans, while standards and most terms on commercial and industrial loans remained unchanged. Meanwhile, demand for loans to businesses reportedly weakened.
The survey included additional special questions on banks' expectations for lending policies and loan performance over 2019. Banks are expected to tighten standards for all categories of business loans as well as credit card loans and jumbo mortgages.
Banks also expected that the demand for most loan types will weaken, on net, with the one exception being credit card loans, for which demand is expected to remain unchanged. Meanwhile, banks anticipate that loan performance will deteriorate for all surveyed categories.
This senior loan officer survey was based on responses from 73 domestic banks and 22 U.S. branches and agencies of foreign banks.
Related Resources
Consumer Lending
Blog Post
Add to Calendar 2023-11-28 09:00:00 2023-11-28 09:00:00 Growing Creatively & Innovatively in 2024 Listen On: Key Takeaways: [0:58] What can credit unions do to best prepare themselves for 2024? [2:12] Although he sees a glimmer of hope, Jack points out that the liquidity crisis and slow prepayment speeds hamper rapid recovery. [5:22] We discuss how credit unions seek low loan growth through member-centric strategies such as second mortgages and home improvement lending. [7:34] Credit unions are leveraging advancing technology for member-focused engagement. [9:31] How will technology continue to evolve and affect credit unions? [11:43] What role does AI play in innovative growth? [14:14] Credit unions adopt technology for efficiency, enabling staff to focus on personalized member interactions, especially with younger generations. [17:14] Closing thoughts, emphasizing competition against banks and fintech for younger generations. Web NAFCU digital@nafcu.org America/New_York public
Strategy & Growth, Consumer Lending
preferred partner
Allied Solutions
Podcast
---
Get daily updates.
Subscribe to NAFCU today.