November 08, 2018
FHA's Montgomery: Condo rule could be finalized this year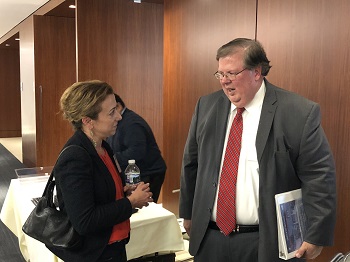 Federal Housing Administration (FHA) Commissioner Brian Montgomery indicated that the agency could finalize its rule to relax restrictions for agency-backed condominium loans yet this year. The FHA issued a proposed rule in 2016 to streamline the process and boost lending to first-time homebuyers.
The proposed rule suggested extending the recertification period for condo developments from one year to three and give flexibility to properties with commercial tenants. The FHA also sought comments on a new owner-occupancy level.
Montgomery also touched on concerns related to the mutual mortgage insurance fund, specifically losses to the fund as a result of Home Equity Conversion Mortgage (HECM) product. The FHA is expected to publish its 2018 report on the insurance fund next week. Montgomery stressed the need to modernize the agency's technology and data analysis to be on par with the sector and to effectively manage the risk exposure from the mutual mortgage insurance fund.
In addition, Montgomery said the Department of Housing and Urban Development (HUD) – which houses the FHA – is working with the Department of Justice (DOJ) on a Memorandum of Understanding related to the False Claims Act. He said he believed the current cap for fines for violations is too low.
Montgomery was speaking at a Women in Housing and Finance luncheon, attended by NAFCU Executive Vice President of Government Affairs and General Counsel Carrie Hunt, Regulatory Affairs Counsel Kaley Schafer, Regulatory and Legislative Assistant Sarah Jacobs and Associate Director of Media Relations and Communications Bobby Grant.
Jacobs will attend another Women in Housing and Finance event today, focused on duty to serve.
Related Resources
Add to Calendar 2023-11-30 09:00:00 2023-11-30 09:00:00 Safeguarding Credit Unions with Threat Intelligence Listen On: Key Takeaways: [1:01] What is threat intelligence, and why is it important to CUs? [2:14] What are threat intelligence feeds, and what role do they play in strengthening CUs? [4:41] Leveraging threat feeds and integrating intelligence into tools is crucial. [6:35] Learn what threat CUs should be most concerned about. [7:39] Phishing is ever-evolving, and user awareness is critical. [10:43] Learn how Defense Storm uses feeds to protect its customers. [13:28] Threat intelligence is not as complicated as some think; initiation can be easy through Slack, discussions, and a reporting culture. Web NAFCU digital@nafcu.org America/New_York public
preferred partner
DefenseStorm
Podcast
Consumer Lending
Blog Post
Add to Calendar 2023-11-28 09:00:00 2023-11-28 09:00:00 Growing Creatively & Innovatively in 2024 Listen On: Key Takeaways: [0:58] What can credit unions do to best prepare themselves for 2024? [2:12] Although he sees a glimmer of hope, Jack points out that the liquidity crisis and slow prepayment speeds hamper rapid recovery. [5:22] We discuss how credit unions seek low loan growth through member-centric strategies such as second mortgages and home improvement lending. [7:34] Credit unions are leveraging advancing technology for member-focused engagement. [9:31] How will technology continue to evolve and affect credit unions? [11:43] What role does AI play in innovative growth? [14:14] Credit unions adopt technology for efficiency, enabling staff to focus on personalized member interactions, especially with younger generations. [17:14] Closing thoughts, emphasizing competition against banks and fintech for younger generations. Web NAFCU digital@nafcu.org America/New_York public
Strategy & Growth, Consumer Lending
preferred partner
Allied Solutions
Podcast
---
Get daily updates.
Subscribe to NAFCU today.