June 16, 2022
FOMC announces largest rate hike since 1994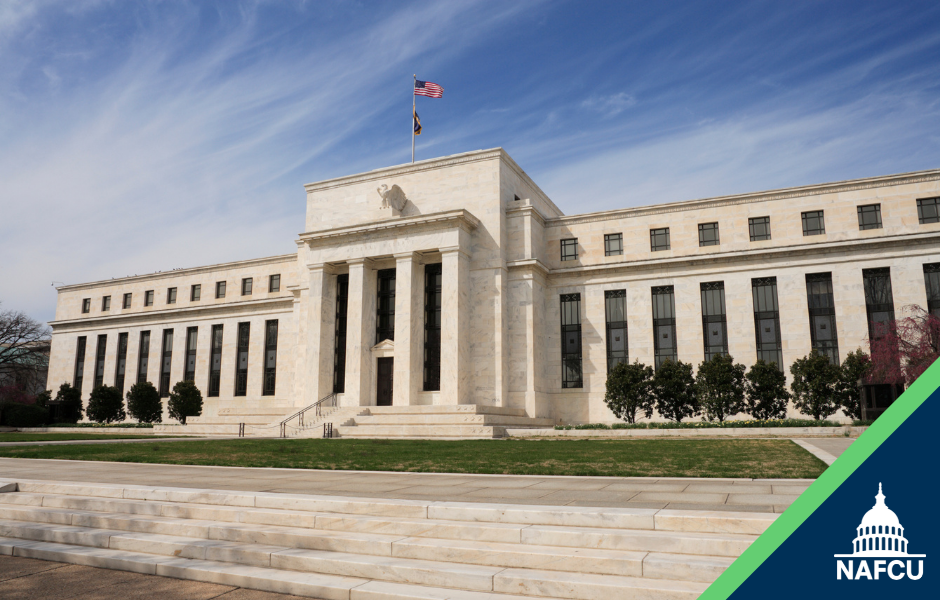 The Federal Open Market Committee (FOMC) held its June meeting this week, where the Federal Reserve raised the federal funds target rate by 75-basis points to a range of 1.5 to 1.75 percent. In addition, the Summary of Economic Projections (SEP) revealed that the median committee member expects the target rate to rise another 175 basis points to 3.4 percent by the end of the year.
Of note, the SEP also showed a significant downgrade for forecasted GDP growth, falling 2.8 percent from the March forecast to 1.7 percent. The forecast for the unemployment rate increased as well.
"The rate outlook is a sharp departure from the committee's forecast three months ago, and the rest of the economic projections followed suit," stated NAFCU Chief Economist and Vice President of Research Curt Long in the latest Macro Data Flash report. "Real GDP was revised down heavily for 2022 and 2023, and the unemployment rate is projected to be higher, climbing above 4 percent by 2024.
"In his press conference, Chair Powell stated that the decision to raise rates by 75 basis points was predicated on the prior week's data on inflation and consumer inflation expectations," added Long. "He noted that the July meeting could see either a 50 or 75-basis point hike depending on incoming data." 
There was no change to the pace of balance sheet reduction and the FOMC will stick to the plan of allowing that to decline in the background, while using rate hikes as its primary inflation-fighting instrument.
"It is clear the FOMC believes it has no choice but to flirt with a recession in order to address inflation, and credit unions should seek to remain as nimble as possible in a rapidly changing and highly uncertain economic environment," concluded Long.
More insights can be found in the new Macro Data Flash report. The FOMC will next meet July 26-27.
Related Resources
Leadership, Growth & Retention
preferred partner
Allied Solutions
Blog Post
Add to Calendar 2023-09-27 14:00:00 2023-09-27 14:00:00 Financial Services Mega-Trends: Welcome to a Whole New World of Financial Services About the Webinar A transformation is underway in the U.S. financial services industry that will have a profound impact on how participants do business, how they strategize about their futures, and how they collaborate around products, service and information. During this session, Cynthia Schroeder, Larry Pruss, and Patti Wubbels will highlight mega-trends worth watching. Key Takeaways: • How the financial services business model is changing • How new entrants are disrupting the industry through innovation • How technology is changing the nature of financial services delivery and distribution • How demographic shifts require credit unions to adapt their cultures and value propositions to gain market share among younger members • How credit unions must adopt a security-first mindset to protect their reputations and the data of their members Register Here Web NAFCU digital@nafcu.org America/New_York public
preferred partner
Strategic Resource Management
Webinar
Cybersecurity, Risk Management
preferred partner
DefenseStorm
Blog Post
Mortgage Servicing
preferred partner
Dovenmuehle
Blog Post
---
Get daily updates.
Subscribe to NAFCU today.