June 16, 2022
House passes DEI package containing provisions both supported and opposed by NAFCU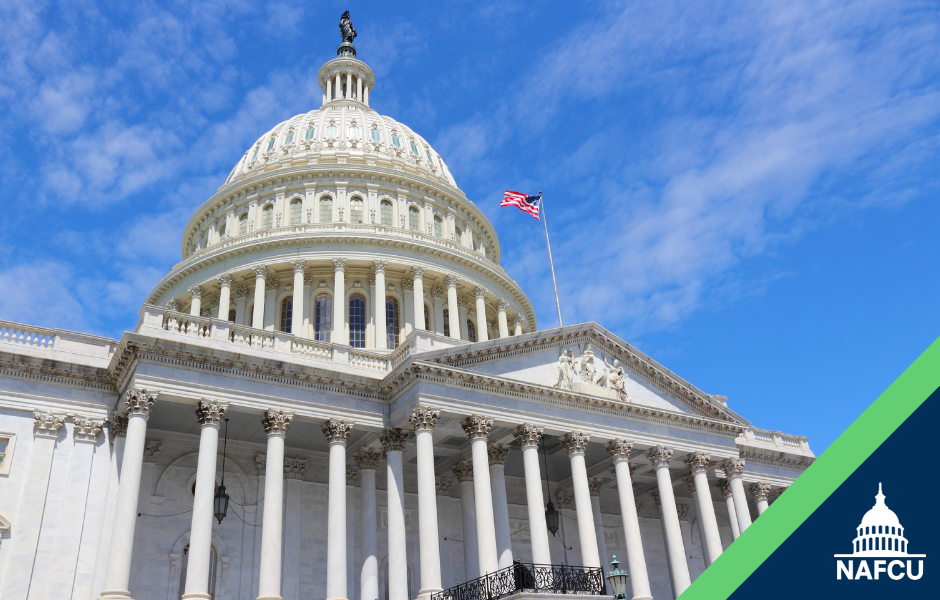 The House Wednesday passed the Financial Services Racial Equity, Inclusion, and Economic Justice Act package, in a 215-207 vote, which includes the NAFCU-backed Expanding Financial Access for Underserved Communities Act. The bill would allow all types of federal credit unions to add underserved areas to their field of membership and adds "banking deserts," areas not within 10 miles of a branch of a financial institution, to the definition of an underserved area.
The CDFI Bond Guarantee Program Improvement Act, also included in the package, would  permanently authorize the CDFI Bond Guarantee Program. The package also contained several CDFI reforms targeted at aiding financial institutions. Of note, NAFCU Vice President of Legislative Affairs Brad Thaler, ahead of yesterday's votes, wrote to the House urging lawmakers to update a current provision in the package that adds women's banks to the definition of minority depository institutions  to also include credit unions. 
Thaler shared concerns regarding certain provisions included in the package that would increase data reporting and disclosure requirement burdens on credit unions. In addition, Thaler shared concerns around provisions that would expand the CFPB's authority. 
"While they may be well-intentioned, we must caution against the burden they stand to place on community financial institutions," wrote Thaler. "We believe that these provisions may prove counterproductive to the goal of increasing access to capital as institutions spend resources to comply, rather than use them to aid members."
The package now moves to the Senate, where it is unlikely to be considered due to the limited days remaining in this Congressional session. NAFCU will continue to monitor the legislation and ensure credit union concerns are considered by lawmakers.
Related Resources
Add to Calendar 2022-12-01 14:00:00 2022-12-01 14:00:00 More Benefit, Less Burden from Your Risk Assessment Process About the Webinar Let's talk Risk Assessment! Did you just cringe at those two words? As industry professionals, we get it. For many credit unions, risk assessment seems like a compulsory, tedious task. As you prepare for 2023, consider how you can change your mindset to appreciate the value in the risk assessment process. We'll convince you that risk assessment is actually a beneficial exercise that can support and improve your credit union's cyber readiness and compliance efforts. Are you ready to reevaluate your approach? Join us for our webinar, "More Benefit, Less Burden from Your Risk Assessment Process," on Thursday, December 1, at 2:00 pm EST to learn more about the benefits of a proactive approach to risk assessment, including: Better conveying your program's successes to internal and external audiences  Strengthening decision-making and prioritization of initiatives  Proactively pivoting to focus on new high-risk areas  Consistent scoring and application of control profiles enterprise-wide   Seamless portrayal of how internal controls support mitigating controls  Robust audit trail proving how risk and internal control scores have evolved  Improving how examiners view your institution's risk culture  Watch the Webinar On-Demand Web NAFCU digital@nafcu.org America/New_York public
preferred partner
DefenseStorm
Webinar
Add to Calendar 2022-12-01 14:00:00 2022-12-01 14:00:00 Dealing with Difficult Members: 5 Foolproof Techniques Dealing with difficult people is an unfortunate byproduct of the financial services industry. From the teller line to the call center, on up to collections--working with borrowers who are confused, angry and looking for somebody to blame--is a daily occurrence. Frontline staff need to develop a thick skin and a solutions-oriented tool kit to work through these challenging interactions.  We need to remember that the members are not always expressing frustration with the institution. Their ire is most often tied to external events or other triggers. But at the end of the day, we must find a way to meet their needs with as little emotional trauma as possible. Fortunately, in this Dealing with Difficult Members: 5 Foolproof Techniques webinar, you'll learn that there are methods you can utilize to focus on a positive outcome and work through most situations. Anger is a natural emotion and one which is almost universally experienced. Rather than return anger for anger or lose a good customer, why not try to build a better interaction? Key Takeaways Discover how to develop listening strategies Review common anger triggers Learn de-escalation techniques   Purchase Now$295 Members | $395 Nonmembers(Additional $50 for USB)One registration gives your entire team access to the live webinar and on-demand recording until December 1, 2023.Go to the Online Training Center to access the webinar after purchase »   Who Should Attend Presidents/CEOs COOs Branch managers Operations staff titles HR staff Education Credits This webinar doesn't qualify for any continuing education credits recognized by NAFCU or NASBA. About Our Webinars Our webinars are streamed live from NAFCU headquarters near Washington, DC. Your audio/video feed of the presenters includes presentation slides and downloadable handouts. You can easily submit your questions to the presenters at any time during the live broadcast, with no dialing over the phone! The audio and video stream directly through your computer. Web NAFCU digital@nafcu.org America/New_York public
Webinar
---
Get daily updates.
Subscribe to NAFCU today.