January 25, 2023
ICYMI: Berger shares NAFCU's 2023 priorities, fintech outlook, more in podcast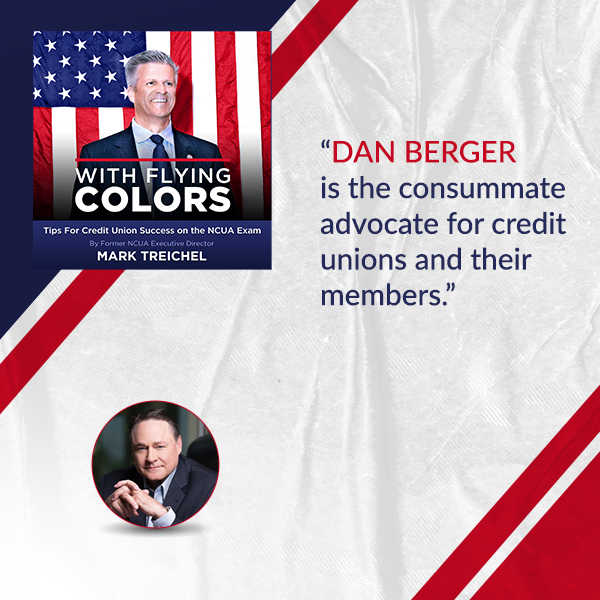 With Flying Colors podcast host and former NCUA Executive Director and Examiner Mark Treichel sat down with NAFCU President and CEO Dan Berger to discuss the association's advocacy priorities in 2023. The pair examined NAFCU's growth over the years, specifically how the association continues to evolve in the same ways as their credit union members. 
On fintech partnerships and ensuring a fair level playing field with credit unions, Berger stressed the importance of a sound "regulatory schematic" for non-depository fintechs.
"You're seeing some hiccups out there with some of those non-depository fintechs, and you're going to continue to see some of those headwinds going into 2023," noted Berger.
During the podcast episode, Berger also shared his strategy when it comes to building a successful team. 
"We would look very closely for attitude and aptitude. Attitude is extremely important. We can teach you about credit unions," stated Berger. "We can teach you the skillset or provide you with the training necessary, but attitudes are extremely important."
Treichel, who recently sat down with NAFCU Vice President of Regulatory Affairs Ann Petros on NAFCU's Credit Union Policy Podcast (CUPP) to share insights on NCUA's examination process, also discussed with Berger ways the NCUA can provide additional flexibility and regulatory relief for credit unions.
Berger wrote an op-ed for American Banker on the NCUA's 2023 budget, expressing disappointment for the unanimous approval of the agency's 7.5 percent operating budget increase: "From undefined cyber security expenses to unjustified increases in examiner staff, credit unions deserve a clear breakdown of this budget to determine exactly what their annual fees, which will increase next year, will fund."
Listen to the episode. Stay tuned to NAFCU Today for the latest out of Washington. 
Related Resources
Add to Calendar 2023-02-03 09:00:00 2023-02-03 09:00:00 Winning the Battle for Deposits Listen On: Key Takeaways: [01:28] An overview of the current macro environment. [02:55] Traditional tactics used by credit unions in the battle for deposits and why these are no longer enough. [07:39] Rife competition in the credit union space and how to stand out from the crowd.  [10:23] The benefits credit unions can experience by reducing the cognitive load of their members [18:17] Advantages and disadvantages of PFM tools in the battle for deposits.  [20:14] What credit unions should demand of their vendors. Web NAFCU digital@nafcu.org America/New_York public
preferred partner
Personetics
Podcast
Add to Calendar 2023-02-02 14:00:00 2023-02-02 14:00:00 How to Leverage Loan Participations in a Low Liquidity Environment About The Webinar As credit unions continue to face challenges with liquidity starting off 2023, strategic pricing and long-term alternative funding strategies can play a key role in allowing credit unions to serve more members and successfully manage the balance sheet. Loan participations can play a key role helping credit unions sustainably grow their originations, provide the marketplace access to quality, short duration investments, and successfully grow market share. Please join Amy Henderson, Chief Consumer Services Officer at Greenstate CU, Devin Hughes, VP of Business Development at LendKey, and Michael Adams, VP of Lender Development at Open Lending for a panel discussion to learn how credit unions can strategically serve more members, effectively price for loans, and successfully manage their balance sheet. Attendees will: Hear from Credit Union and FinTech experts Learn about loan pricing strategies and participation strategies Glean best practices from industry leaders who have been executing on these innovative strategies that better position the balance sheet for long term growth Find out how credit unions can start the process to identify trusted partners to help them execute on this strategy and serve more members Register for the Webinar Web NAFCU digital@nafcu.org America/New_York public
preferred partner
Open Lending
Webinar
Management, Relationships, Consumer Lending
preferred partner
Wolters Kluwer
Blog Post
---
Get daily updates.
Subscribe to NAFCU today.