August 12, 2019
ICYMI: NAFCU revamps Reg Alert for user ease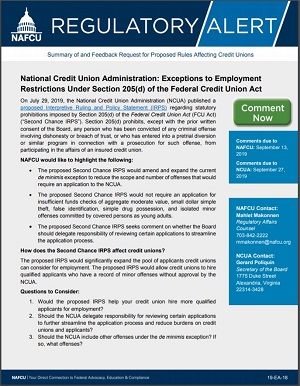 NAFCU last week released a new-and-improved Regulatory Alert template to make it easier for credit unions to review and understand proposals, find contact information and provide comments. This member-only resource is sent when federal agencies and departments propose changes to regulations that will affect credit unions.
Of note, the new template features:
a section concisely explaining how the proposal will directly impact credit unions;
the questions NAFCU would like members to consider on the first page;
a button to take members directly to NAFCU's online survey to provide comments;
clear comment deadlines for both NAFCU and the corresponding agency; and
contacts at both NAFCU and the corresponding agency if credit unions have questions on the proposal.
Credit unions can use the revamped template to review and provide comments on the CFPB's advance notice of proposed rulemaking regarding revisions to the definition of a qualified mortgage (QM) under the Truth in Lending Act (TILA), and the NCUA's proposed interpretive ruling and policy statement (IRPS) related to a section of the Federal Credit Union Act regarding convicted criminals.
All Regulatory Alerts can be accessed here.