May 09, 2019
Kraninger: Transparency key in debt collection rulemaking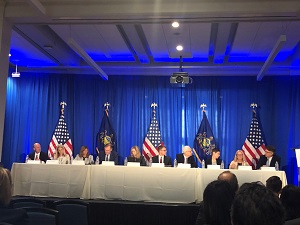 CFPB Director Kathy Kraninger shared the bureau's belief in a transparent process for its recently released proposed rulemaking related to third-party debt collection during a NAFCU-attended town hall in Philadelphia, Pa., yesterday.
Kraninger noted that the rule provides clarity and balance for consumers and debt collectors, and anti-harassment provisions would still apply to communications via email and text messages under the proposed rule.
Kraninger was joined by bureau staff and industry professionals to discuss topics including the cap on communications made, channels of communication, and validation notices. Consumer advocates expressed their concerns over the ability to opt out of communications but no ability to opt into receiving communications via email or text message. The group also discussed disclosures and the model form validation notice that is included in the notice of proposed rulemaking.
"We appreciate the Bureau working to ensure consumers are provided with clear, upfront disclosures on the terms, conditions and obligations of their loans," said NAFCU Director of Regulatory Affairs Ann Kossachev in response to the rulemaking. "However, NAFCU will carefully review the proposal to gauge any impact on our members, in particular where credit unions may work with third parties." 
NAFCU will continue to urge the bureau to exempt credit unions from any rules related to first- and third-party debt collection, as credit unions are not the bad actors in this space. Any rulemakings could have a negative impact on the credit union industry and would make it more difficult for credit unions to offer affordable, high-quality products to their members.
Related Resources
---
Get daily updates.
Subscribe to NAFCU today.