October 17, 2018
Kucey to NCUA: Commit to cost-saving efforts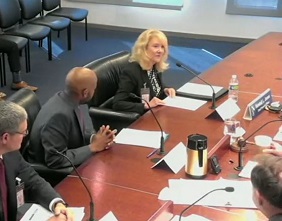 NAFCU Board of Directors Chair Jeanne Kucey, while testifying before the NCUA Board today on its proposed budgets for 2019 and 2020, urged the agency to pursue "an ongoing, agency-wide commitment to eliminating duplicity and creating an efficient budget that can be maintained long-term without relying on annual increases."
Kucey, president and CEO of JetStream Federal Credit Union (Miami Lakes, Fla.), noted that the $304.3 million proposed operating budget for 2019 represents a 71 percent increase in the NCUA's budget over a decade; during the same period, the industry has seen a 25 percent reduction of credit unions.
However, even as the industry has consolidated, credit unions have continued to grow. Kucey recommended the agency reconsider its conservative approach to supervision, saying that "the NCUA cannot realistically eliminate all risks as credit unions accumulate more assets. Accordingly, NAFCU urges the NCUA to moderate supervision based on objective indicators."
As the NCUA continues to work on its reorganization plan and examination modernization initiatives, Kucey encouraged the agency to better coordinate resources and expertise with other regulators, including state supervisory authorities.
In addition, Kucey reiterated NAFCU's recommendation of expanding eligibility for an extended 18-month exam cycle for all well-run, low risk credit unions "to reduce burdens and achieve additional savings."
"Expanding eligibility for extended exams could materially decrease the agency's operating budget," Kucey said. "It must also be noted that Congress recently expanded extended exam cycles to more banks above $1 billion as part of S. 2155. The NCUA should follow suit and take action to do so for credit unions as well."
Also during her testimony, Kucey asked the NCUA to reconsider its request for third-party vendor authority, seek ways to reduce expenses related to contracted services, balance enhanced monitoring with respect for credit union autonomy, and return the National Credit Union Share Insurance Fund's (NCUSIF) normal operating level to 1.3 percent as soon as possible.
Related Resources
---
Get daily updates.
Subscribe to NAFCU today.