October 26, 2022
Latest ECU Monitor details what CUs need to know about payments fraud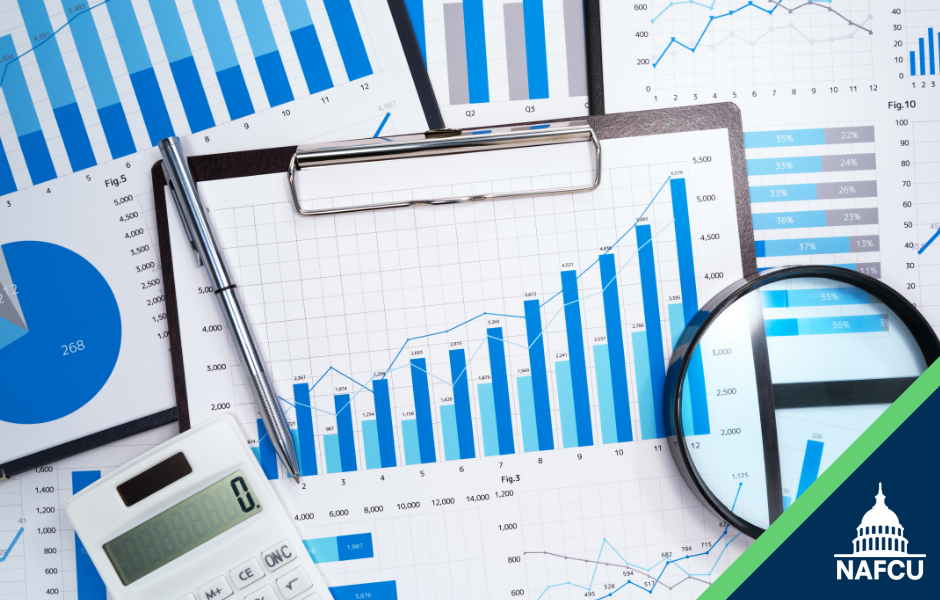 NAFCU's latest Economic & CU Monitor – now available for download – examines survey respondent's perspectives on payments fraud, common types of fraud vectors, and mitigation strategies. 
The monitor revealed that card online transactions, along with check and peer-to-peer (P2P) transactions, were the channels most likely to correspond with an increase in attempted fraud over the past year. For all three channels, most respondents reported that the dollar amount of losses had also increased. Of note, credit unions seeking to manage the risk of fraud must contend with the regulatory framework of the Electronic Fraud Transfer Act (EFTA) and Regulation E.
The monitor also reported that 42 percent of respondents noted fraud involving online card transactions was the most difficult type of fraud to prevent, followed closely by P2P payments.
"NAFCU will continue to engage with the CFPB and members of Congress to express the need for better solutions that target the root cause of fraud, rather than simply trying to shift financial responsibility onto credit unions," wrote the NAFCU Research Team.
This month's monitor also includes the Credit Union Sentiment Index (CUSI), which improved modestly in September as three out of four components – growth, earnings, lending, and regulatory burden – increased versus August.
The largest gain was in the earnings index, which still sits slightly below its pre-COVID level but continues to rise steadily. The vast majority of respondents with a positive earnings outlook over the next year identified either interest rates or loan demand as the key reason supporting that outlook. 
The lone CUSI component to decline in September was growth, which sits at its pre-pandemic level.
NAFCU relies on survey responses to provide its members a glimpse of trends affecting the credit union industry and inform the association's advocacy efforts. Next month's survey covers cybersecurity. Responses are due Nov. 10.  
For more on NAFCU's award-winning research team, check out the association's Macro Data Flash reports for insights into interest rates, auto sales, the housing market, and more. 
Related Resources
Add to Calendar 2023-11-30 09:00:00 2023-11-30 09:00:00 Safeguarding Credit Unions with Threat Intelligence Listen On: Key Takeaways: [1:01] What is threat intelligence, and why is it important to CUs? [2:14] What are threat intelligence feeds, and what role do they play in strengthening CUs? [4:41] Leveraging threat feeds and integrating intelligence into tools is crucial. [6:35] Learn what threat CUs should be most concerned about. [7:39] Phishing is ever-evolving, and user awareness is critical. [10:43] Learn how Defense Storm uses feeds to protect its customers. [13:28] Threat intelligence is not as complicated as some think; initiation can be easy through Slack, discussions, and a reporting culture. Web NAFCU digital@nafcu.org America/New_York public
preferred partner
DefenseStorm
Podcast
Consumer Lending
Blog Post
Add to Calendar 2023-11-28 09:00:00 2023-11-28 09:00:00 Growing Creatively & Innovatively in 2024 Listen On: Key Takeaways: [0:58] What can credit unions do to best prepare themselves for 2024? [2:12] Although he sees a glimmer of hope, Jack points out that the liquidity crisis and slow prepayment speeds hamper rapid recovery. [5:22] We discuss how credit unions seek low loan growth through member-centric strategies such as second mortgages and home improvement lending. [7:34] Credit unions are leveraging advancing technology for member-focused engagement. [9:31] How will technology continue to evolve and affect credit unions? [11:43] What role does AI play in innovative growth? [14:14] Credit unions adopt technology for efficiency, enabling staff to focus on personalized member interactions, especially with younger generations. [17:14] Closing thoughts, emphasizing competition against banks and fintech for younger generations. Web NAFCU digital@nafcu.org America/New_York public
Strategy & Growth, Consumer Lending
preferred partner
Allied Solutions
Podcast
---
Get daily updates.
Subscribe to NAFCU today.