March 02, 2021
Lawmakers aim to bolster Main Street recovery with MBL relief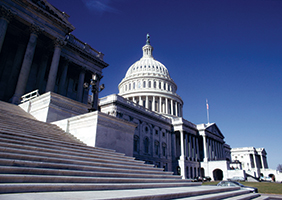 Reps. Brad Sherman, D-Calif., and Brian Fitzpatrick, R-Pa., Monday introduced NAFCU-supported legislation that would provide an exemption from the credit union member business lending (MBL) cap for loans made to small businesses as they recover from the coronavirus national emergency.
"NAFCU applauds Representatives Brad Sherman and Brian Fitzpatrick for introducing legislation that will help our nation's small businesses and local communities recover from the coronavirus pandemic," said NAFCU President and CEO Dan Berger. "Credit unions have long sought to provide essential loans to small businesses – including many owned by minority populations – more so than their counterparts in the banking industry.
"This bill will help ensure credit unions are able to provide small businesses with the funding they need to keep their doors open, pay their employees, and continue to provide important services in their communities. NAFCU strongly supports this bill, and we will boldly advocate for its passage."
Similar legislation was introduced in the House and Senate last year. NAFCU's advocacy rallied support from more than 60 members of Congress for this MBL relief to be included in coronavirus relief efforts.
The bill would allow credit unions to exempt from their MBL cap loans made within the year from when the national emergency that was declared on March 13, 2020, expires to small businesses to aid in Main Street's recovery of the coronavirus pandemic. It would require the NCUA to issue implementing regulations that ensure a credit union's safety and soundness are not impacted by the loans.
NAFCU has long sought relief for credit unions from the arbitrary MBL cap and, amid the coronavirus pandemic, has urged Congress to amend the Federal Credit Union Act to provide credit unions with greater flexibility and relief from the MBL cap so they can increase access to lending to the nation's small and Main Street businesses that are in need. The association has also worked to garner support from the NCUA Board on this issue.
NAFCU will keep credit unions updated on the bill's status and continue to advocate to Congress ways in which it could provide additional tools to credit unions to better support members amid the pandemic.
Related Resources
Business Lending
Blog Post
Business Lending
Blog Post
---
Get daily updates.
Subscribe to NAFCU today.