August 17, 2012
Lawmakers call for CFPB to delay remittance rule
At the urging of NAFCU and other financial services trades, a bipartisan group of House lawmakers sent a letter Thursday to the Consumer Financial Protection Bureau requesting that the implementation of the final rule on remittances be delayed.
The joint letter, led by Blaine Luetkemeyer, R-Mo., and Yvette Clark, D-N.Y., points out that the rule was intended to provide greater transparency and certainty, as well as increased access to low-cost transfer services for consumers. Instead, it puts access to transfer services "in serious jeopardy due to the nearly impossible compliance challenge that financial institutions must solve by next February."
A key obstacle is the requirement that financial institutions will have to create their own closed networks, a concern NAFCU continues to express since most credit unions operate with open systems. The lawmakers note that it could take "several years to develop" those new systems, which may prompt some institutions to stop offering such services. As a result of the final rule, "thousands of banks, credit unions, and broker-dealers will no longer send consumer-initiated international funds transfer because of the final rules," the lawmakers write. Consumers may also face higher costs and fewer options as a result.
The CFPB issued the final rule on Aug. 7, with CFPB Director Richard Cordray putting in a call to NAFCU President and CEO Fred Becker in advance of the announcement to let him know that it would include an exemption for any institution that handles no more than 100 remittances a year. While this may provide some relief to a limited number of credit unions, NAFCU is concerned that the agency only factors in the number of transactions handled and not the size of institutions affected.
Originally, the CFPB set an implementation date of Feb. 7, 2013. The lawmakers are requesting the bureau push that date back by two years so the full impact of the rule can be studied.
Related Resources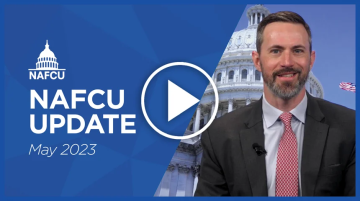 Video
Add to Calendar 2023-06-01 09:00:00 2023-06-01 09:00:00 Managing Risk with Derivatives In today's interest rate environment, derivatives are an essential tool that plays a key role in mitigating rate risk in credit unions' loan portfolios and in pricing member share accounts. By providing access to fairly priced products and services, credit unions support their local communities and play an important role in the nation's financial health. Get the Report: Location NAFCU digital@nafcu.org America/New_York public
preferred partner
Piper Sandler
Whitepaper
---
Get daily updates.
Subscribe to NAFCU today.