June 27, 2018
Lewis: CUs need more risk-related guidance, compliance safe harbor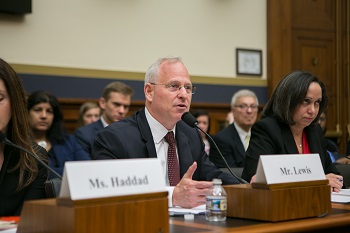 NAFCU witness John Lewis spoke about the need for further guidance on regulators' risk-management expectations and suggested a safe harbor be put in place to ease credit unions' filing compliance burdens with Bank Secrecy Act (BSA) and anti-money laundering (AML) requirements. Lewis was testifying before a House Financial Services subcommittee on the topic of de-risking and its implications on businesses and consumers.
This was NAFCU's second time testifying on Capitol Hill this year; Lewis, senior vice president of corporate affairs and general counsel at United Nations Federal Credit Union (UNFCU) (Long Island City, N.Y.), testified before the Subcommittee on Financial Institutions and Consumer Credit. De-risking is the practice of limiting certain services or ending a customer/member relationship to avoid perceived regulatory concerns about their risk.
In his opening testimony, Lewis explained that UNFCU's unique membership – with some members that are all over the world – coupled with its vendor relationships, gives the credit union a "strong understanding of the challenges from both sides of the de-risking issue."
Responding to a question from Rep. Scott Tipton, R-Colo., on the lack of certainty on what exactly regulators and law enforcement are looking for as far as risk-management practices, Lewis said more certainty in the form of guidance would go a long way. "If we have some certainty then we can evaluate the risk," he said.
He specifically spoke in favor of the Counter Terrorism and Illicit Finance Act (H.R. 6068), which seeks to modernize the BSA/AML regime; and the Financial Institutions Examination Fairness and Reform Act (H.R. 4545), which would create and ensure an independent exam appeals process for an institution that might find an examiner's findings unfair. He also said the Financial Institution Customer Protection Act of 2017 (H.R. 2706), which would ensure "Operation Choke Point" policies are not used by regulators to keep financial services away from a member without a valid reason, would also be helpful in giving credit unions more certainty on regulators' expectations.
When asked by House Financial Services Subcommittee Chairman Andy Barr, R-Ky., what a safe harbor would look like for financial institutions, Lewis said it would require balance – an easement in the filing compliance burden without jeopardizing information needed by law enforcement.
NAFCU has previously raised concerns to lawmakers and regulators about credit unions' compliance burden as it relates to the filing of suspicious activity reports (SARs). Rep. Barry Loudermilk, R-Ga., asked about this burden and Lewis responded that H.R. 6068 would help this effort and said more guidance would also be helpful, as there is sometimes unevenness with what law enforcement is looking for compared to regulators.
International remittances and improvements that can be made to the process – and to the CFPB's rulemaking on the issue – were also touched on during the hearing. Lewis shared that because of changes in remittance requirements, his credit union was forced to move its program to a third-party vendor, which cost UNFCU about $1 million and took three months to get underway – it also raised the cost of international remittances for the credit union's members. He added that a lot of credit unions can't afford such a program so have had to stop offering the service, and noted that the Bureau of Consumer Financial Protection (formerly the CFPB) should use its authority under Section 1022 of the Dodd-Frank Act to exempt credit unions.
Related Resources
---
Get daily updates.
Subscribe to NAFCU today.